In Przemyśl was held a Consecration of Archbishop Yevgen Myroslav (Popovych)
Sunday, 20 December 2015, 22:01
December 19th, 2015 in the Cathedral of St. John the Baptist in Przemyśl, the Father and Head of the Ukrainian Greek-Catholic Church His Beatitude Sviatoslav celebrated a Divine Liturgy and appointed Archbishop Yevgen (Popovych) for the Metropolitan throne.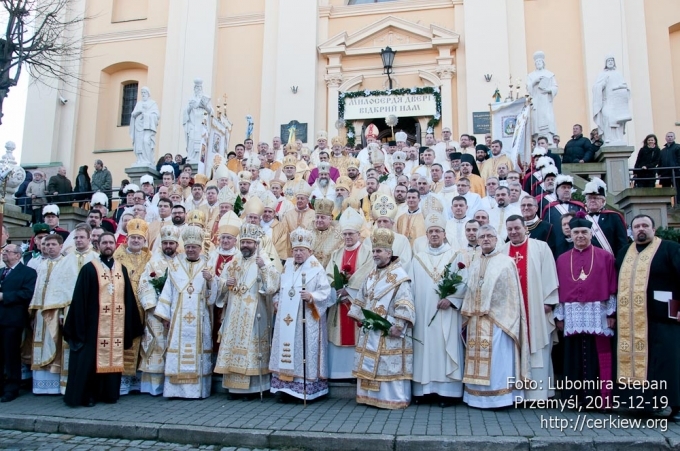 In this remarkable event participated nearly forty bishops who arrived from Poland, Ukraine and Slovakia. Among them, in particular, were present apostolic nuncio in Poland Archbishop Celestino Migliore and a Secretary of the Congregation for the oriental Churches, Archbishop Cyril Vasyl'.
A divine service started at 10.00 with a procession from the Episcopal chamber to the Cathedral of St. John the Baptist. The Head of the UGCC was greeted by faithful of Archeparchy of Przemyśl-Warsaw and the dean of the Cathedral. Afterwards, Archbishop Ivan (Martynyak) greeted all present deservers of Church and representatives of Polish and Ukrainian government.
During the Divine Liturgy bishop Yevgen was consecrated for the Metropolitan throne. On praying was signed a canonical protocol about a newly appointed Archbishop of Przemyśl-Warsaw, bishop Yevgen.
Later on, all present heard a greeting word of Archbishop Cyril Vasyl' and bishop Volodymyr (Yushchak), eparch of Wrocław-Gdańsk. Also were read congratulations from President of Poland, Andrzej Duda and President of Ukraine, Petro Poroshenko. New Archbishop and Metropolitan of Przemyśl-Warsaw, Yevhen (Popovych) delivered his thank you speech.
At the end of the celebration, clergy and faithful of Przemyśl-Warsaw Archeparchy thanked Archbishop Ivan (Martynyak) for his previous pastoral work and greeted bishop Yevgen – new Archbishop and Metropolitan.
The UGCC Department of Information
with the materials of cerkiew.nazwa.pl
PUBLICATIONS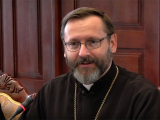 Speaking at the end of a closed-door meeting on religious freedom at the US Embassy to the Holy See, Major Archbishop Sviatoslav Shevchuk, head...
MEDIA