In Rome Bishops of the Permanent Synod discussed an ecumenical dialogue with UAOC, war on East and beatification of metropolitan Andrey
Tuesday, 08 March 2016, 13:16
The Permanent Synod of Bishops of the UGCC is an important institute which supports Church in fulfilling its service and govern a Church. Commonly, during such sessions, bishops of the Permanent Synod listen up to the structures' reports of the Patriarchal level. This time a report was delivered by the Council for Evangelization, in charge with bishop Josaphat (Moshchych). Was also heard a report of the UGCC Theological Department in charge with bishop Yaroslav (Pryriz) and his issue that is related to the life of the Church in Ukraine and abroad.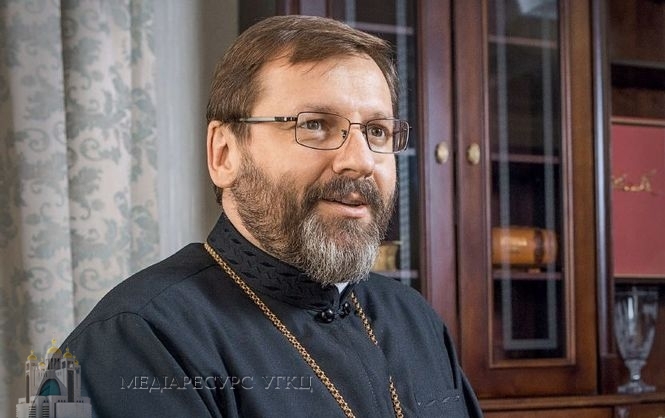 In the interview for "Radio Vatican" the Father and Head of the UGCC His Beatitude Sviatoslav told about the run of the Permanent Synod of Bishops.
Apart from sessional meetings, bishops met with representatives of dicastery of the Roman Curia: We had a meeting within a Congregation of Doctrine of Faith with what was presented an issue of searching unity between UGCC and Poltava-Kharkiv Diocese of the UAOC. We also met with representatives of the Congregation for the Oriental Churches. We were trying to present the most significant challenges for the UGCC life in Ukraine. In particular, an activity of our structures at the territories where situation is hard (Donetsk and Crimea Exarchates).
Was also held a meeting at the Secretariat of State with Pietro Parolin, Cardinal Secretary of Vatican City. Bishops of the Synod discussed social political life of Ukraine with him and displayed a content of the Synod's address to the government, politicians and civic society about a political crisis and adopted by WCC and RO Appeal, concerning this matter.
"He was interested what position our Church takes up according to the government policy and necessary reforms; in particular, in what way Churches approach their task in fighting against corruption. We were talking about needs of the UGCC within actions of Vatican's diplomacy regarding Ukraine", said His Beatitude Sviatoslav. A meeting was also held with archbishop Paul Richard Gallagher, Secretary for Relations with States within the Holy See's Secretariat of State. The main topic for discussion was about a role and place of Vatican diplomacy in ending war on East Ukraine.
"In addition to this we discussed with Pope Francis an importance of metropolitan Andrey's beatification. Pontiff was explained if a process of beatification happens this year it will bring positive changes into the Ukrainian society. With this kind of act, Pope as if embraced Ukraine", added he.
"Every time our bishops come to Rome they want to pray with their people, and this time we wanted to live this moment of worshiping God with Ukrainians from Rome, praying together in the Jubilee Year of Mercy", told His Beatitude Sviatoslav, adding it became a significant moment to speak to our people. "We explained that Holy Father is important for Ukraine and warned about possible challenges which can undermine trust for him", mentioned he.
The current situation in Ukraine, His Beatitude Sviatoslav presented to the Ukrainian in Rome as a parallel between Lviv Pseudo-Council of 1946 and trying to discredit Pope before the UGCC then and now, and to separate the UGCC from unity with Rome. "Today foes of Ukraine are also trying to incite Pope with political aims, so to undermine a trust for him. It is being done to turn Ukrainians against the unity with a Successor to Peter. These actions flow out from the same source', pointed out His Beatitude Sviatoslav.
The UGCC Department of Information
PUBLICATIONS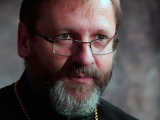 A presentation of the book "Dialogue Heals Wounds" of the Father and Head of the UGCC, His Beatitude Svyatoslav, was recently held. The book is...
MEDIA