In Rome His Beatitude Sviatoslav have consecrated the riza of Zhyrovytska icon of the Virgin
Wednesday, 27 November 2013, 14:42
November 24th, at the eve of a great holiday of Martyr Josaphat ( Kuntsevych ), in the Church of the Holy Martyrs Sergius and Bacchus in Rome, Father and Head of the Ukrainian Greek Catholic Church, Patriarch Sviatoslav ( Shevchuk) consecrated the precious riza of Zhyrovytska miraculous icon of the Virgin.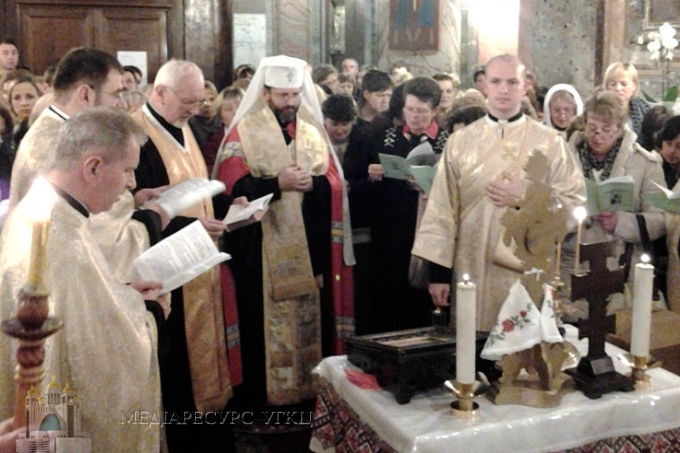 "This is exactly the Virgin Mary , which St. Josaphat prayed to in the territory of the diocese, which the priest - monk called people to come to get the precious graces " - said the head of the UGCC during a sermon to the faithful .
Zhyrovytska icon of the Virgin in the Roman church has a special story and is in a special way connected with the history of our Ukrainian land.
"Once it was painted on the outside wall of the church, somewhere in the middle or second half of the XVII century. Its author probably was pious Basilian monk who prayed for his land . While on this land civil war was going on. Sheding blood, burning towns and villages were here. Creating in prayer image of the Zhyrovytska Virgin, he said all his prayers for his native land , but prayed in Rome , "- said the head of the Church.
Sanctifying this precious renovated old riza for the miraculous icon His Beatitude said , "Today we pray for Ukraine ."
"We are observing with great dismay the events that occur today, this very day, this Sunday ... May the Virgin Mary , to whom our holy Jehoshaphat prays for us today , helps us. And we are looking at the icon , let your heart and thoughts pray , remembering our past, understand our present and pleading with the Lord God of our future "- wisheded the Head of the UGCC.
UGCC Information Department
PUBLICATIONS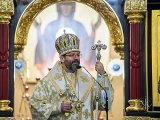 Head of the Ukrainian Greek Catholic Church brings multifaceted experience to project of evangelization.
MEDIA