In Senlis was held the celebration in honor of Anne of Kyiv, Queen of France
Monday, 02 June 2014, 10:57
For the umpteenth time the town of Senlis, in Picardy, welcomes descendants of the famous Anne of Kyiv, daughter of Yaroslav the Wise, Queen of France of the eleventh century.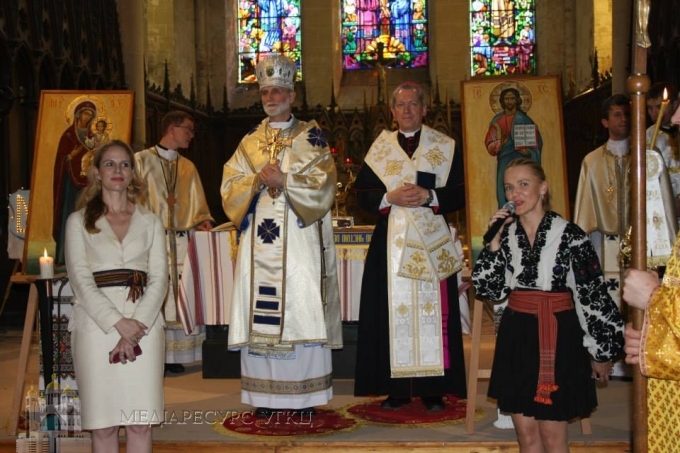 This year's celebration in honor of the Princess began early on Saturday, May 17, with the Conference about Anna Yaroslavna in the 17th district of Paris and concert of Ukrainian choir from Canada (Toronto) "Vesnivka" at the Cathedral of St. Volodymyr the Great, which is in San Germain.
On Sunday, May 18, numeral Ukrainian community came to Senlis, to pay tribute to the glorious compatriot, who became famous in France as an educator, a wise ruler, the founder of the abbey of St.Vincent. In Senlis, which was the residence of the royal couple, even today you can see the chapel of the XI century, built by Anna Yaroslavna, to commemorate the birth of her first child of Philip (Pylyp) and Queen sculpture at the entrance, where you can read the inscription: "Anne of Kyiv, French queen, the founder of the cathedral in 1060".
This year's celebrations of 18 May were very busy. Everything started at 8 o'clock with the Liturgy in the acquired by Ukrainians Church of St. Borys and Glib. Afterwards, at 10 o'clock, in the city center, near the monument to the glorious Princess Anne, took place the solemn part of greetings to the Ukrainian community and arrived guests, as well as the traditional wreath-laying at the monument to Anne of Kyiv and the memorial stele to Holodomor victims which is situated nearby. It should be recalled that the memorial board was installed in the town in 2008 at the initiative of former Mayor Jean Canter and UWC.
Hundreds of Ukrainians and guests, including representatives from the Ukrainian Embassy in France and the Municipality of Senlis, leaders of the French-Ukrainian associations and other institutions duly paid tribute to the glorious compatriot. Particularly visitors were impressed by the arrival of the team of Paris automaidan with the Ukrainian symbols.
Afterwards, in the chapel of St. Vincent was a festive Divine service. The whole solemn part and the Liturgy were accompanied by the singing of Ukrainian choir from Canada "Vesnivka" and the Cathedral Choir of St. Volodymyr the Great of Paris under the direction of Lesya Mykytyn.
After lunch was held a conference devoted to the Duchess of Kyiv, visiting the catacombs near the church of St. Borys and Glib and the concert of Canadian choir "Vesnivka".
Lyubov Bondarchuk, journalist
PUBLICATIONS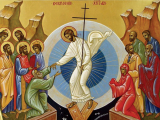 Most Reverend Archbishops and Bishops,Very Reverend and Reverend Fathers,Venerable Brothers and Sisters in Monastic and Religious Life,...
MEDIA