In Ternopil the Head of the UGCC consecrated a memorial desk to Metropolitan Andrey Sheptytsky
Saturday, 12 December 2015, 15:39
On 10th of December, at the Cathedral of the Annunciation thousands of Ternopil citizens were greeting the Head and Father of the UGCC who arrived to hold a service for Ukraine and consecrate a memorial desk to metropolitan Andrey Sheptytsky.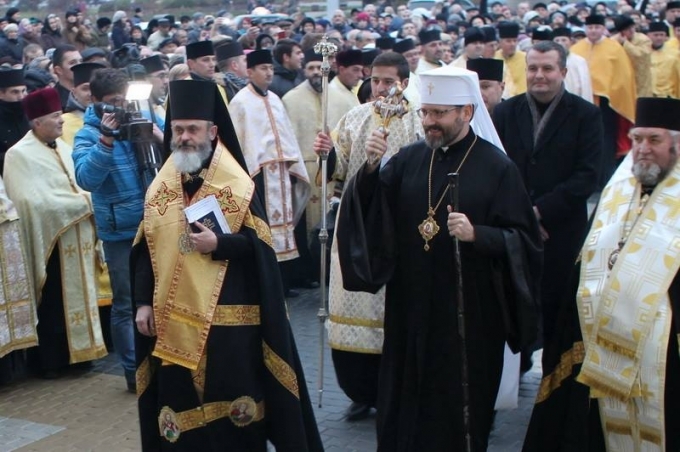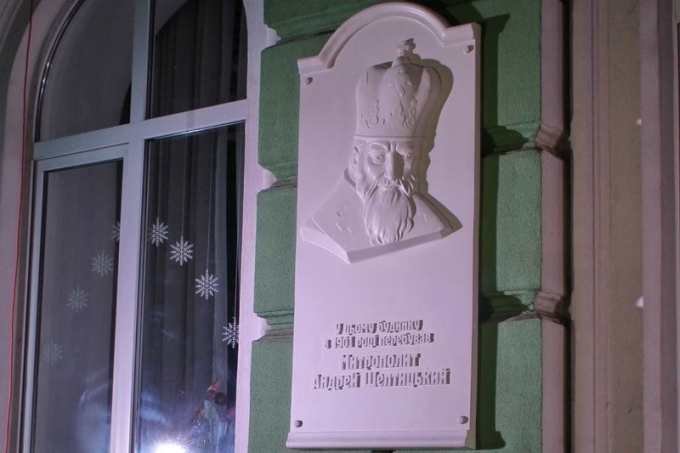 The memorial in honour of metropolitan Sheptytsky was established on the façade wall of the Ukrainian Ternopil gymnasium, a place that was visited by metropolitan Andrey Sheptytsky 114 years ago.
After the service His Beatitude Sviatoslav headed a procession with lighten candles. Along Ternopil central streets walked Archbishop and Metropolitan of Ternopil-Zboriv, Vasyl (Semenyuk) and Josaphat (Govera), Exarch of Lutsk, nearly 150 priests, seminarians of Ternopil Seminary and faithful.
Memorial desk to the holy Andrey Sheptytsky created Ternopil's sculptor Oles' Malyar. It was made with the newest materials. This memorial is called white radiance. The consecration of the memorial desk was accompanied with a fragment of the first part of an art program "Three prayers of Metropolitan", handling by Honoured Art Worker of Ukraine Oleg German, who was reciting verses and reflections.
A grand opening of the memorial desk carried out the head of the organizational committee on execution of reverence solemnities in Ternopil, Vadym Perets' and the principal of the Ukrainian gymnasium of Ivan Franko, Anatoly Kryzhanivsky.
Actually, in 1901 metropolitan Andrey was visiting all classes of that school, and at the end of a meeting in a assembly hall he was conversing with pupils and their parents, teachers about a future of the country, about the importance of preservation a national upbringing for the coming generations.
After the consecration was finished, the Head of the UGCC, His Beatitude Sviatoslav was conversing with high school pupils, parents, teachers the same as metropolitan Andrey did 114 years ago.
Ten minute conversation was changed into the second part of a program "Three words of Metropolitan", presented by the Galician chamber orchestra and guided by Vasyl Felenchak together with Oleg German.
Via verses, fragments from pastoral letters, reflections on the past and present in the combination with a chamber music, listeners were given a moment of a spiritual coming of Metropolitan to the hall through spaces of centuries.
With this event, the Head of the UGCC finished the celebration of the Year of metropolitan Andrey Sheptytsky.
Father Oleh Kharyshyn
The head of the press service of Ternopil-Zboriv Archeparchy of the UGCC
Historical Reference
From 1867 till 1913 Ternopil was a part of Austro-Hungarian Empire. In 1901 it was visited by metropolitan Andrey Sheptytsky. In the city were finished a range of activities: electric power station that was put in operation was finished; a sewerage system was provided; two periodicals in Polish language were published; was finished a building process of a Jesuit Cathedral, which was consecrated on September 29th with a big number of Roman and Greek-Catholics. In the same year Josef Slipyj finished his education at school in Zazdrist village. In 1901, in Ternopil a building of a new edifice of a high school in Strilets'ka Street was finished (today it is called Kopernika Street).
Attempts to open Ukrainian gymnasium ran upon resistance of Polish government along centuries. However, thanks to an active work at the Seym of Ambassador Oleksandr Barvinskiy, in 1898, October 17th, the lessons, nevertheless, were started in the first Ukrainian class of the Ukrainian imperial-royal gymnasium named after Franz Joseph I that was located temporally in Dominican monastery.
The grand opening of a new-built three-storeyed school building of 50 classes and gymnastic hall was held in 1901, September 16th. The number of pupils, who were studying that time were 479 persons. In the ceremony of opening participated a governor of Galicia Leon Pininski together with the representatives of Lviv's regional school council.
Immediately after the opening, in 1901, November 30th, a real school was visited by metropolitan Andrey Sheptytsky, who stayed in every class almost half an hour and set the meetings with the teachers and parents in the assembly hall. The main purpose of meetings was a need to strengthen Ukrainian spirit in Ternopil city, because of the pressure of Polish community it stayed not in the best conditions.
Metropolitan wanted to testify his pastoral support to Ukrainians of our city and also suggested the ways of strengthening national patriotic upbringing in educational institutions of Ternopil. It was a key reason to hold a conversation in a new-built Ukrainian school.
Besides, there was a tough problem to build a new parochial church in Ternopil. A growth of the city at the end of XIX century and beginning of XX century led to a significant population growth that was coming from the neighbouring villages. In 1903 a parishioner from Ternopil suggested buying an area of her house at the crossroad of the main street of the city.
Yet, polish people redeemed it, money for what they got from an owner of a mill in exchange for victory in elections, and built up there their parochial roman catholic church. Soon, nearby it a bigger area was given for sale and a senior priest fr. Gromnytsky decided to buy it. This money, in sum 5000 dollars was lent by metropolitan Andrey Sheptytsky. Simultaneously, bishop Andrey contributed money for building church in Zarvanytsia.
What is interesting, Ternopil's street that today has a name of Metropolitan Sheptytsky comes from once redeemed, by Metropolitan, place for building a church, stretching long to Petrykiv village, where in the centre of it is a church (1904), consecrated by Metropolitan Andrey.
Was decided to collect money; memorial cross was put up. At the city council session on January 24th, 1910 was drafted a competition tax (prescribed for building a church and evaluated of its price) in sum of 245 thousands crowns.
The next steps were carried out:
- the style and outlook of the church were thought over;
- the architectural plan was decided on;
- on the place of the future church a cross was put up, which was renewed after the World War I;
- 200 of cubic metres of stone were brought for the base and 5 coaches of lime that was paid off.
However the building process was not started – the same city council did not allow it. It damaged a health of father Gromnytsky, and he died afterwards. The city board proceeded to claim about its incompetence to settle the present issue. Petition to build a church was in hands of Polish archbishop Tvardovsky, former senior priest of the roman catholic church in Ternopil, and was rejected completely.
PUBLICATIONS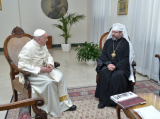 3 July at 10:00 AM, at Casa Santa Marta in the Vatican, Pope Francis met with His Beatitude Sviatoslav. The meeting was held at the request of the...
MEDIA