In the Patriarchal Cathedral of the Resurrection of Christ, prayers were said for Patriarch Josyf (Slipyi)
Tuesday, 18 December 2012, 09:17
Today, December 16th in Kyiv, the Primate of the Ukrainian Greek-Catholic Church His Beatitude Sviatoslav (Shevchuk) led a Pontifical Divine Liturgy in the Patriarchal Cathedral of the Resurrection of Christ during which prayers were said for Patriarch Josef (Slipyi). Let us remember that 2012 was proclaimed in the Ukrainian Greek-Catholic Church as the Year of Patriarch Josyf.
During his sermon the UGCC Head stated that today we "remember a special person" in the history of Ukraine and of our Church – God's Servant Patriarch Josyf (Slipyi).  "This person found life.  He went on this road himself and today is leading all of us down that road.   May the example of the Servant of God,  Patriarch Josyf  become for us a real guide and thereby a call to follow Christ through the fog of today's world, so that none of us get lost, but all gain eternal life," expressed His Beatitude Sviatoslav his wish for all Ukrainians.
The preacher reminded the faithful that the greatest treasure of a person is not earthly reality; the greatest treasure and wealth for a person is God.  Because He is the source of everything: earthly and eternal life, well-being, and happiness – everything which the human heart needs.
"We are witnesses of the creation of a new global culture: when everything in the world becomes jumbled up, when human certainties sometimes lose their significance.  We stand at the threshold of some new time, a new period in the history of mankind.  Many scholars compare the time which mankind is undergoing now to a fog.  One can see the fog, but one cannot touch it; yet in that fog it is very easy to get lost.  And the task of every faithful Christian is to find a path at this time.  And the task of the Church is to show this path, so that the contemporary person will not perish, will not be lost, but find the life that is Christ," persuaded the Church Primate.
After the Liturgy, Archbishop-Emeritus His Beatitude Lubomyr (Husar) shared his reminiscences of Patriarch Josyf.
"I remember," he said, "when I first saw Patriarch Josyf.  It was on the Feast of Epiphany in 1943. The Blessing of Water was held at the City Square in Lviv.  He was there with several priests.  I was a small boy.  I asked my mother, 'Why are these fathers so big?'"
It was very cold weather on that Epiphany and the priests had furs underneath their vestments.  That was the beginning of the acquaintance of His Beatitude Lubomyr with the Patriarch.  He got to know him better when the Patriarch visited USA in the sixties.
Patriarch Josyf is a person of may dimensions, about whom one could and should talk.  His Beatitude limited himself to several instances.
"Josyf Slipyi," he continued "is a son of Podillia.  His native village is Zazdrist.  He was born and raised in a good Christian family.  I think that this also influenced his personality, because Josyf was an extremely hard-working person.  His concept of "work" was inherited from his family circle.  Those who knew him say that from a young age he devoted his time to studying.  Industriousness is one of the basic characteristics of Patriarch Josyf.  Later I personally became convinced of this."
"He did not like inaction.  He did not like it not only in himself but also in others.  Once in Rome near our dwelling I and an older priest were taking a walk after breakfast.  We were not simply wandering but were actually involved in formulating our tasks for the next few days.  And Patriarch Josyf, who lived on the third floor, came down and asked: 'Why are you wasting your time?'  Really we were not simply wasting time, but it seemed to him that one could carry out one's activities in a more effective manner.  We continued doing our tasks, but now already in a way which adhered more to the wishes of the Patriarch.  He even had his own special word for those who wasted time:  ne tynndaite [don't  loiter] .    He used to say: 'Brother -- don't loiter, work.'"
"He basically spent his time on scholarly matters.  Wherever and however possible, Josyf Slipyj tried to develop scholarship.  He not only worked himself but also created work places for others, encouraged students, cultivated in them a respect for scholarship.  It was exactly he, who having lived through exile, began to establish the Ukrainian Catholic University in Rome…  In doing this he overcame the most varied impediments.  And if today, we do have a University, it is only thanks to the initial, very decisive steps of the Patriarch."
UGCC Department of Information
PUBLICATIONS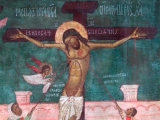 "Open to me the doors of repentance, O Giver of Life. As we worship in Your temple this morning, teach us how to purify the temple of our...
MEDIA