In UGCC, the Decade of the Missionary has begun
Thursday, 29 May 2014, 22:07
On the Feast of the Ascension of Christ, as approved by the Synod of Bishops, UGCC begins a Decade of the Missionary 9 (a ten-day period). This period will last until the Descent of the Holy Spirit and has as its goal to focus the whole Church on the joint calling to be missionaries.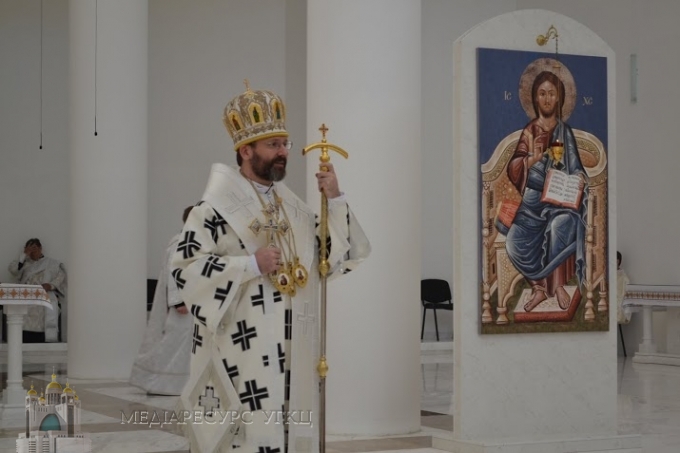 As UGCC Father and Head of the Church, His Beatitude Sviatoslav noted, during these ten days in all UGCC parishes, there will be contemplations about what should be the mission of Christians in the third century of the world. This His Beatitude Sviatoslav said during the sermon of the Pontifical Divine Liturgy held on the day of Ascension of the Lord, May 29, 2014, in the UGCC Patriarchal Cathedral of the Resurrection of Christ in Kyiv.
During these days we will prepare to implement apostolic serving according to the vocation of the people christened by God. We cannot hold on only for ourselves all those gifts which we have received from the Resurrected Christ.
Together with the apostles, we should preach the truth about the Only God in three persons and make His students all those who still do not know the real God," said the preacher. His Beatitude Sviatoslav added that the Decade of the Missionary is also a time of expecting the Holy Spirit, and a period of preparation for our Christian mission.
In order to follow the stations of the Decade according to the established daily program, one can use the newly published "Guide to the Decade of the Missionary." The introductory part explains the meaning of this period in the life of the Church and moves on to each day of the Decade with a relevant Word of God, meditations, prayers, assignments, and readings of the Acts of the Apostles. Every faithful can get this booklet in one's parish. Separate "Instructions for the Clergy regarding the Missionary Decade" were also published. In this guide, emphasis is placed on the fact that the main person of the Decade of the Missionary is the Holy Spirit, who "acts powerfully, touches and converts human hearts."
UGCC Department of Information
MEDIA