"It is not by chance that during the Maidan we celebrated the 200th anniversary of the Kobzar. God gave us this jubilee as a gift…" UGCC Head
Thursday, 22 May 2014, 21:18
Given the situation which has developed in our country, we have to once again realize who we are. We need to renew our historical memory. I think, that the treasure of Shevchenko's poems can be very useful and necessary in this effort. Otherwise, as the poet said, "someone else will come and tell us about us."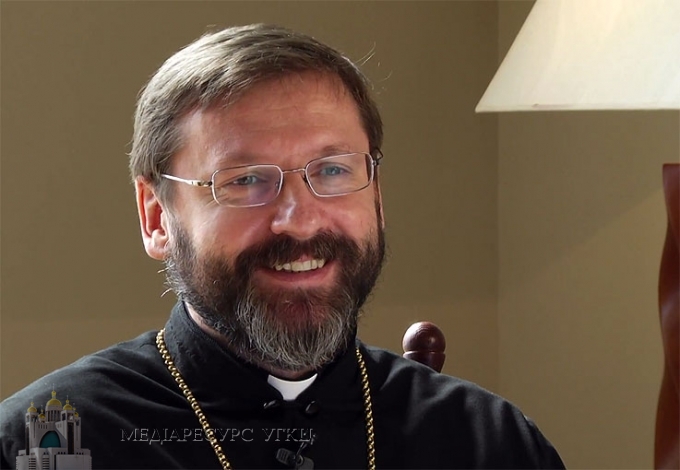 His Beatitude Sviatoslav (Shevchuk),UGCC Head, expressed this thought in an interview about a new project of the television of the Ukrainian Greek-Catholic Church, "Live TV", and the All-Ukrainian Yuriy Derevianka Charitable Fund, "Kobzar Unites".
UGCC Major Archbishop considers that it is necessary to unite anew an autonomous Ukraine. It is the works of Shevchenko which can become a very profound and inviolable foundation for this: "He created in both Russian and Ukrainian languages. Therefore his poetry can also speak to the Russian resident of Ukraine with the force of a prophetic word, in talking about those values which we today call European values. He will equally also speak to the Ukrainian-speaking Ukrainian, whom he will teach to love her/his Motherland."
Taras Shevchenko, contends the Head of the Church, will teach us to value our own and to get rid of the complex of inferiority. It is not by chance that during the Maidan we celebrated the 200th anniversary of the Kobzar. God gave us this jubilee as a gift, which we should open for ourselves," he believes.
In remembering his own experience, His Beatitude Sviatoslav said that he grew up together with the poems of Shevchenko: "I remember my grandfather and grandmother, a circle of their friends, who almost knew the whole Kobzar by memory. The first time that I heard the poems of Shevchenko was from the lips of these simple people. Using the words of Shevchenko, they commented on the events of their times.
Even more, for UGCC Prelate, the figure of Shevchenko was always an instrument of realization of who he was. "Fate has taken me to various countries and continents and the Kobzar (1956 edition) always accompanied me," said the Archbishop.
"Kobzar Unites" – interviews with renown Ukrainians about Taras Shevchenko. For example, Myroslav Marynovych, Yevhen Sverstiuk, Jamala, His Beatitude Lubomyr (Husar), His Beatitude Patriarch Filiaret, His Beatitude Sviatoslav, Valentyn Sylvester, Evhen Stankovych, Taras Kompanichenko and others. All together it contains 15 interviews.
UGCC Department of Information
PUBLICATIONS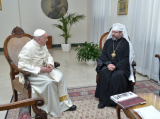 3 July at 10:00 AM, at Casa Santa Marta in the Vatican, Pope Francis met with His Beatitude Sviatoslav. The meeting was held at the request of the...
MEDIA