It's important to understand who Christ is for us as with this Saturday we draw near Paschal mystery, - Head of Church in Obukhiv
Sunday, 02 April 2017, 12:06
On the fifth Saturday of Great Fast Father and Head of UGCC His Beatitude Sviatoslav consecrated a cornerstone of St Antoniy Pecherskyi Church at the monastery of Studite monks in Obukhiv, Kyiv region.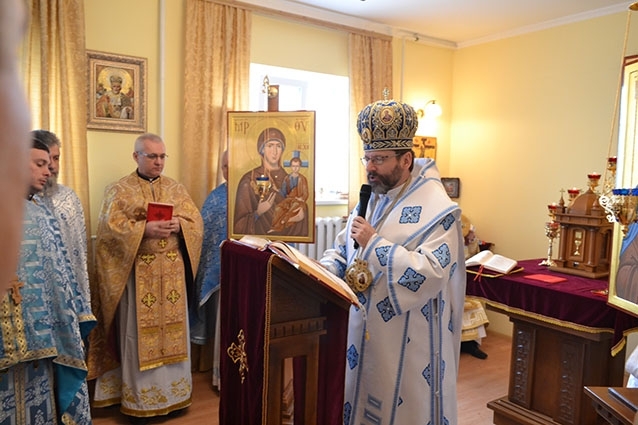 In the Service took part: bishop Joseph Milan, bishop-auxiliary of Kyiv Archeparchy of UGCC, bishop Teodor, bishop-auxiliary of Ternopil and Zboriv Archeparchy of UGCC and mayor of Obukhiv.
During his homily, Head of Church noticed that reading Gospel from Mark that day appeared to be strange at first sight. Christ is asking His disciples: "Who do the people say I am?" Disciples are replying, retelling what people say about Him: He considered to be an ordinary man, endowed with the special gifts, a mission from God. Then Jesus asks them: "Who do you say I am?" To what Peter in a deep belief replies: "You are the Christ". "It means that disciples see Jesus Christ as the one anointed by God, the Messiah, the Son of God, without realizing completely, how a living God can abide in a human body, - the preacher explains. – The disciples acknowledge the living God who teaches being among them". What seems strange is that Jesus listening to this sincere confession of apostle Peter, rebukes not to tell anybody about it: "This is strange since it's the sense of the sermon of the Church… Apparently, this news had to be spread around the world, what actually the apostles will perform shortly. However, Jesus, for some reasons, rebukes them to not tell anyone".
According to His Beatitude Sviatoslav, in theology it is called "Messianic Secret" what is peculiar only to the Gospel from Mark. "We don't have an exact answer to this question but we can presuppose that Jesus Christ intends to lead His disciples into the deeper understanding of who He truly is and what mission He came to accomplish. After this confession of Peter Christ starts to explain, proclaim good news, reveal the truth about His sufferings, martyr death on the cross and his glorious resurrection. He leads His disciples into the Paschal Mystery which will display the power of divinity of Jesus Christ, and they will understand who is He. Then not just partly or up to one's wish but in the completeness of God's revelation they will be able to preach the truth to the world. The truth about Resurrection of Christ, the Son of God who was born, lived among us, taught us a Word of a Divine truth, and died, and rose from the dead", he proceeded.
"I think, Jesus Christ put this question to everybody on this Saturday", the Major Archbishop goes on. – We heard good news about our Savior in churches very often. We pray to Him, we talk to Him, receive His Blood and Body. Who is He for us? Today people would answer differently in accordance with consciousness, an ability to receive God's revelation up to the level of a personal spiritual life". Still, Jesus Christ is our Saviour, who can grant us an eternal life. Apostle Paul says: "The one who believes in Jesus as a Lord and His resurrection is already saved". In other words, faith in the Son of God – God who became a man is the key to the victory over sin and death: "It's not enough just to express implicit and tremendous faith, but it's important to live by it. The person of Christ must be a cornerstone of building up a personal life, a rock for forming our personality here, on earth".
A cornerstone is an interesting architectural construction, as the preacher explained, since it connects two separate walls, which are dispersed from it, two different perspectives, two oppositions. "Like Christ united into Himself two natures, human and divine, similarly a cornerstone supports and remains steady", he underlined.
So, it's important to give a proper respond to Who Christ is for us as starting with this Saturday we a draw near the Paschal mystery: "It's important to answer ourselves, how do we lead our life, what is our basement, who do we have as a guideline for us. Who is the cornerstone of our souls? Let us give a right answer and be sure, God will sustain us in building this temple".
At the end, Head of Church added: "We are building temples because we confess the presence of Christ among us as He was present among His disciples, and this temple is going to become a place of meeting God with people. May Blessed Virgin Mary be a special guardian of this monastery, a teacher Who will teach us knowing Who Her Son is truly is and how we ought to live, acknowledging things we proclaim".
The UGCC Department for Information
PUBLICATIONS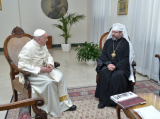 3 July at 10:00 AM, at Casa Santa Marta in the Vatican, Pope Francis met with His Beatitude Sviatoslav. The meeting was held at the request of the...
MEDIA