Knights of Columbus in Ukraine endowed a scholarship for seminarians of Kyiv Seminary
Thursday, 25 June 2020, 21:06
Supporting of vocation is one of the major principles of service of Knights of Columbus worldwide and in Ukraine, particularly. Five years ago Knights of Columbus Kyiv Council initiated to endow scholarships for seminarians of Kyiv Three Saints Theological Seminary.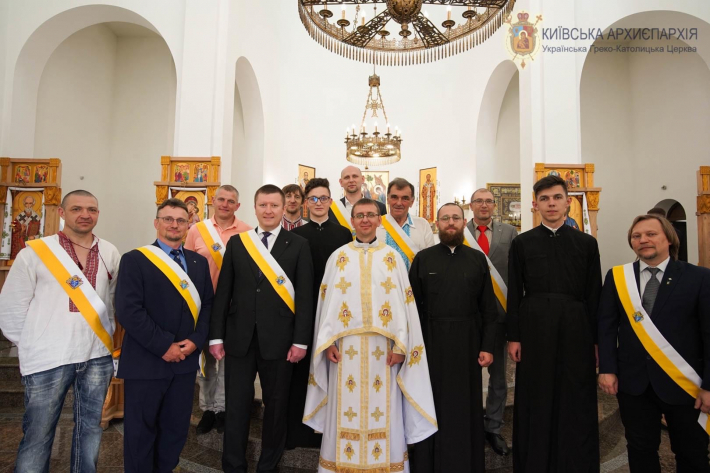 On Sunday 21 of June after the Hierarchal Divine Liturgy three students of the Seminary gained their scholarships from representatives of the Knights.
This time Kyiv Seminary was visited by the representatives of Kyiv centers, including national advisor Br. Mykola Mostoviak and Br. Roman Panivnyk, National Program Director, Grand Knights of Council Number 15802, Br. Mykola Dmytrovskiy, Council Number 15800, Br. Mykhailo Kanafotskiy, as well as representatives of Council Number 15800, Br. Leonid Yevmenyev and Volodymyr Klymenko.
The Divine Liturgy was led by His Beatitude Sviatoslav. Among those who co-served Head of the Church were bishop Bohdan Dziurakh, rector of Kyiv Seminary Fr. Petro Zhuk, rector of UCU Fr. Bohdan Prach, Ph.D, deputy supreme knight of the Knights of Columbus in Ukraine Volodymyr Malchyn and all invited priests.
After the Divine Liturgy Head of the UGCC handed out diplomas to 10 graduates of the seminary. For the first time in history the graduates, besides receiving diplomas of master's degree in theology, also obtained diplomas of Ukrainian Catholic University, which Kyiv Seminary is affiliated with.
After the ceremony of receiving diplomas the seminarians Oleh Mokryk, Roman Kichula and Andriy Tymchuk received from the Knights of Columbus scholarships with the average price of 39 000 UAH.
His Beatitude Sviatoslav thanked all benefactors who contribute to the life and activity of the Seminary. He also encouraged people from around the world to support education of future priests for our Church.
PUBLICATIONS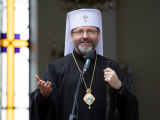 When we see people's transgressions, iniquities and even crimes we, first of all, have to undertake an examination of conscience, so not to do...
MEDIA