Lenten mission in the Ukrainian Catholic Cathedral of St. Josaphat in Parma (USA)
Wednesday, 25 March 2015, 22:14
21-25 March 2015 the Ukrainian Catholic Cathedral of St. Josaphat in Parma, Ohio (USA) held its Lenten mission, which this year was led by Father Lubomyr Zhybak, Administrator of the Holy Trinity Ukrainian Catholic Church in Youngstown, Ohio and St. Anne's Ukrainian Catholic Church in Austintown, Ohio.
In addition to the lay faithful, the mission was attended by His Excellency Bishop Bohdan Danylo, Bishop of the Ukrainian Catholic Eparchy of St. Josaphat in Parma; His Excellency Bishop Robert Moskal, Bishop-Emeritus of the Eparchy of St. Josaphat; Mitred Archpriest John Stevensky, Pastor-Emeritus of the Eparchy of St. Josaphat; Father Bohdan Barytskyy, Assistant Pastor of Saint Josaphat Cathedral; Father Michael Kulyk, a priest of the Eparchy of St. Josaphat; Archdeacon Jeffrey Smolilo from St. Josaphat's Cathedral as well as a few religious. In his homilies and conferences, Father Lubomyr focused on three aspects of Christian life: forgiveness, obedience and faith. Regarding forgiveness, the missionary emphasized the importance to forgive as the Lord does it, namely, when God forgives sins, He forgets them. As for the obedience, Father Lubomyr stressed the obedience of God the Son in relation to God the Father as well as obedience of the Blessed Virgin Mary in relation to God as foundational actions in the salvation of mankind and hence the importance of the Christian's obedience to God in his daily life – obedience, which does not limit man's liberty, but rather makes it a true and perfect freedom. And finally in regard to faith, the preacher stressed the importance for a Christian to surrender himself completely into the all-merciful hands of the Lord as it was done by Blessed Virgin Mary, whose feast of the Annunciation the cathedral parish celebrated on March 25 in accordance with the new calendar, allowing God to lead him on His life-giving path of salvation, paying utmost attention not to fall into the trap of the modern agnostic theory – a theory that rejects the possibility to prove the existence or non-existence of God – which is now popular in the Western world. In addition to the Divine Liturgies and other liturgical celebrations, the faithful also had an opportunity during mission to reconcile themselves with God through the Holy Mystery of Penance.
At the conclusion of the spiritual exercises, Father Bohdan Barytskyy thanked Father Lubomyr for having agreed to give this year's Lenten mission in the cathedral and expressed his hope for Father Lubomyr to address the cathedral parishioners with his spiritual word many times in the future.
Department of Information of the UGCC
PUBLICATIONS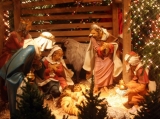 Christ is Born! "Today Christ is Born of the Virgin in Bethlehem. Today, the eternal One has a beginning, today the Word becomes...
MEDIA