Manchester and Bolton Welcomes His Beatitude Patriarch Sviatoslav
Tuesday, 24 October 2017, 12:34
On Sunday 22nd October 2017, parish priest Rev Volodymyr Sampara, along with representatives of the Ukrainian community in Greater Manchester, welcomed His Beatitude Patriarch Sviatoslav to the Ukrainian Catholic Church of the Dormition of Our Lady in Manchester. Joining His Beatitude Patriarch Sviatoslav at the celebration of the Pontifical Divine Liturgy was Bishop Hlib Lonchyna, Bishop Hryhoriy Komar (Auxiliary Bishop of Sambir-Drohobych), Rev Taras Khomych from the neighbouring parish of Liverpool and Very Rev Mitred Archpriest Bohdan Matwijiwczuk (administrator of the Ukrainian Autocephalous Orthodox Church in Great Britain).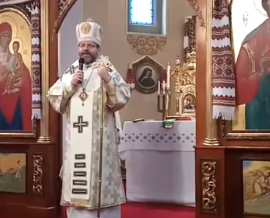 During his homily, His Beatitude underlined the importance of integrating whilst not assimilating in ones new homeland.
Later that afternoon, His Beatitude Patriarch Sviatoslav visited All Saints Ukrainian Church in Bolton. He was welcomed by parish priest Rev Ewhen Nebesniak SDB and Mr Hryhoriy Bolubash (a founding member of the Bolton Ukrainian community) and celebrated a Moleben to the Mother of God. The Right Reverend John Arnold (Bishop of Salford) was also present at the service. Councillor Roger Hayes accompanied by his wife Jaleh Hayes, along with Right Honourable Ms Yasmin Qureshi (MP Bolton South East) attended the commemorations in honour of the 60th anniversary of the establishment of the Ukrainian Catholic Exarchate/Eparchy in the UK.
At both community centres a reception was held in honour of His Beatitude.
For more information regarding the UCC60 celebrations please contact:
Name: Myroslava Matwijiwskyj
Mobile: +44 (0)7595 896 781
Email: eparchy@ukrainianchurch.org.uk
PUBLICATIONS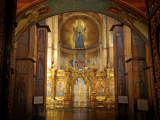 Dear brothers and sisters in Christ! Throughout our millennial history, our Church and our people have fully experienced in their bodies the...
MEDIA