Message from Cardinal Leonardo Sandri at the end of the Divine Liturgy in Saint Peter's Basilica on the occasion of the 50th anniversary of the placing of the relics of Saint Josaphat
Wednesday, 28 November 2013, 23:57
At the end of the Divine Liturgy, led by His Beatitude Sviatoslav (Shevchuk), UGCC Head, on Monday, November 25, 2013, in Saint Peter's Basilica on the occasion of the 50th anniversary of the placing of the relics of Saint Josaphat in this Basilica, Cardinal Leonardo Sandri, the Prefect of the Congregation for Eastern Churches, addressed those present. He stated his joy that he could take part in this Divine Liturgy to honor Saint Josaphat together with the pilgrims from Ukraine, Belarus and other countries" and to await the arrival of the Holy Father.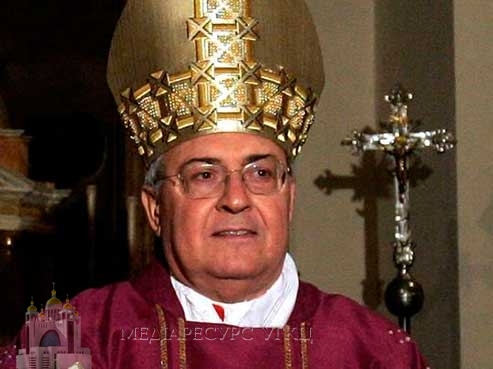 "Together with yesterday's, today's Liturgy is a stamp not only of our Year of Faith as well as the plenary meeting of our congregation in which the Head and Father of your Church, His Beatitude Sviatoslav played an active role," noted the Prefect of the Congregation for Eastern Churches, adding that during the meeting thoughts numerous times turned to the realistic state of UGCC in the native land and in diaspora. Reminding all, how most of the present on the previous day on St. Peter's Square prayed the Apostles' Creed, when Pope Francis held in his hands the relics of Apostle Peter, Cardinal Sandri emphasized this telling sign of the succession of Saint Peter in the figure of the Bishop of Rome and stated "One cannot imagine oneself outside of this communion, we cannot dim that concrete reality which motivated your ancestors to be a Church «cum Petro et sub Petro» [with Peter and under Peter] but in such a manner that, as the Second Vatican Council taught, there be no harm to the essence of your Eastern Churches." And the affirmation of this "prophecy of unity" can also be found in the figure of Saint Josaphat.
The speaker also mentioned that Blessed Pope John XXIII, during whose pontificate the realization of the plan to place the relics of Saint Josaphat in St. Peter's Basilica was begun, himself was born exactly on November 25th, and noted that Pope John XXIII died a few months before the transfer of the relics. "A few months prior to His beatification, said Cardinal Sandri, we feel that he unites with us from the heavens in our joy and that today is a repetition of what happened then – Pope Francis, similar to then the Servant of God, Pope Paul VI, will greet us and impart his Apostolic Blessing." And in quoting the words of Pope John XXIII about the beatification of Saint Josaphat, the Prefect of the Congregation of the Eastern Churches wished "a pious trepidation and a celebratory joy" to Ukraine and the Greek-Catholic Church in Ukraine, Belarus and other countries where it exists.
Radio Vatican
PUBLICATIONS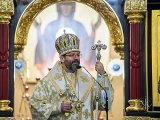 Head of the Ukrainian Greek Catholic Church brings multifaceted experience to project of evangelization.
MEDIA