On Independence Day, Pope Francis prayed for Ukraine
Sunday, 24 August 2014, 18:18
On Sunday, August 24,2014, after saying the prayer "Angelus Domini" with thousands of pilgrims who gathered on St. Peter's Square in the Vatican, Pope Francis greeted Ukraine with its Independence Day. Just as he mentioned Ukraine, his words were interrupted with long applauses by all present there.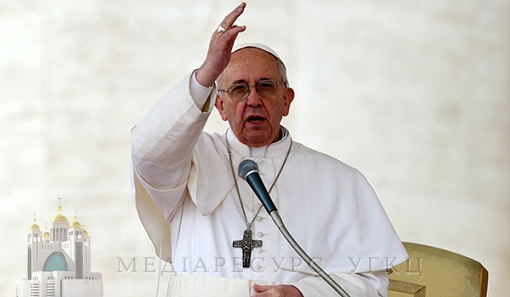 "Dear Brothers and Sisters, today my thoughts in a special way flow to the beloved land of Ukraine which today is celebrating its national holiday, to all of its sons and daughters, to their strivings for peace and tranquility which are being threatened by the tense situation and conflict which does bear signs of decreasing, causing much suffering among the civil population. We entrust the whole country to the Lord Jesus and the Holy Mother of God and pray together, first of all, for the victims, for their families, and for all who are suffering. I received a letter from one bishop who relates all of this grief and distress. Let us pray together to the Blessed Mother of God for this beloved land of Ukraine on the day of its national holiday!"
The pope together with thousands of pilgrims present at St. Peter's Square, said the prayer "Hail Mary" ending it with the words "Mary, Queen of Peace, pray for us!"
Courtesy of Radio Vatican Site
PUBLICATIONS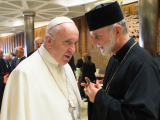 An unprecedented event took place in Rome on July 5-6. Desiring to demonstrate support for the Ukrainian Greek-Catholic Church at a time of...
MEDIA