On Independence Day the Hierarch urged to defend our country, to support it and to be patriot
Tuesday, 25 August 2015, 12:09
In His video blog on the occasion of Independence Day of Ukraine His Beatitude Sviatoslav outlined three challenges that are now facing all Ukrainians: the need to protect the independence of our country, to assert and help to reform the state institutions and government bodies and nurture state consciousness and patriotism.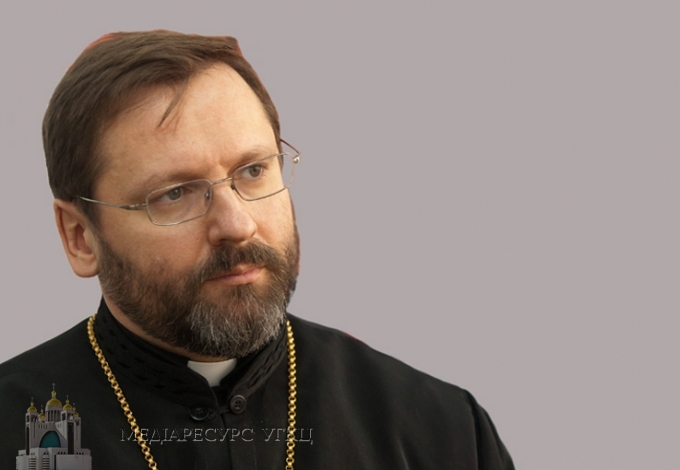 Reflecting on the need to protect the independence of our homeland today, the Hierarch stressed that it is the duty of all of us. "Remembering our heroes, whose blood aspersed our independence, we must understand what is the responsibility of each of us in strengthening the defense of our country", - said His Beatitude Sviatoslav.
He remembered that today we are experiencing the anniversary of perhaps the bloodiest events when a year ago, those days, in Donbass the most bloody battles for the independence of our country were taking place. We have experienced the invading of regular troops of Russia, and, according to released numbers, more than 600 of our heroes were killed, 200 went missing, many were captured, where they are staying today.
"Defense capacity of Ukraine - isn't it the main problem the President of Ukraine and the public authorities are facing now? - stressed His Beatitude Sviatoslav - but I think, on this Independence Day we have to feel all together that as the Ukrainian society, as the Ukrainian people, we should defend our land, our country according to the gifts, tasks and assignments of each. Today everyone has to answer in his or her conscience the question: where is my checkpoint that I must defend to the last drop of my blood?"
"What does it mean today for us to build Ukraine as an independent state?" - Asked the Primate of the Church, speaking of the need to approve state structures. His Beatitude noted that today you can often hear calls to fight with the Ukrainian authorities ... "I personally - he said - would very cautiously react on such appeals. I would rather say that we need to fight for the establishment of state bodies in Ukraine. We have to fight for their purity, efficacy, to make this government really ours. We are more than ever should feel responsibility for the Ukrainian authorities. Perhaps, the current government does not meet our needs, but we should feel responsible for the correct choice of those who carry out state-task function. We talk about the need to reform government. And it is fair, because many of its mechanisms we inherited from the Soviet era. We feel obliged to make the mechanism of state building completely transparent and European".
"So - called His Beatitude Sviatoslav - as we stood together at Maidan, let's fight together for a fair, transparent mechanisms of European Ukrainian state".
Another task for the Ukrainians today, His Beatitude is concerned, - is to nurture state-consciousness and patriotism, which is the engine of nation-building.
"True patriotism is based on love for our homeland. Therefore, this patriotism makes it possible to recover our strength, gives us strength, because love is always inspiring. Only love can make a person a hero"- said the Head of the UGCC.
He noted that false patriotism teaches to hate others: "And this approach quickly exhausts the power of man, because you cannot hate forever".
In conclusion, His Beatitude Sviatoslav quoted the words of Metropolitan Andrey, who said: "Love to my people made me a true Ukrainian patriot".
UGCC Department of Information
PUBLICATIONS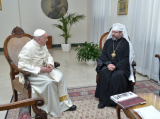 3 July at 10:00 AM, at Casa Santa Marta in the Vatican, Pope Francis met with His Beatitude Sviatoslav. The meeting was held at the request of the...
MEDIA