On the Feast of the Nativity, the Apostolic Nuncio for Ukraine greeted the people of Ivano-Frankivsk
Saturday, 11 January 2014, 17:50
On January 8th, Apostolic Nuncio for Ukraine, His Excellency Archbishop Thomas Edward Hallickson celebrated the Nativity Liturgy in the Resurrection of Christ Metropolitan Cathedral in Ivano-Frankivsk.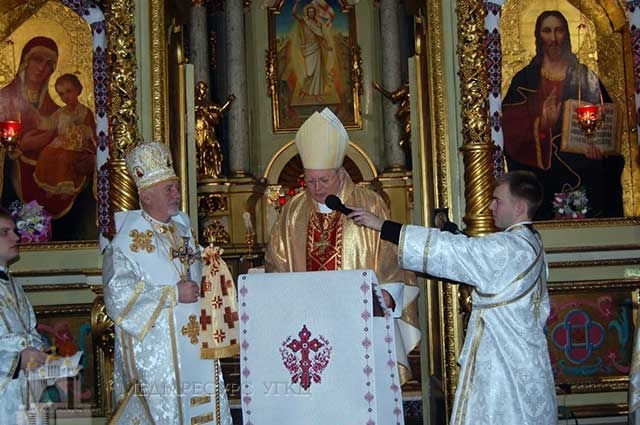 After the Gospel, Ivano-Frankivsk Archbishop and Metropol itan Volodymyr Viytyshyn turned to all the faithful with the Feast of Nativity greetings. Liturgy concelebrants were the priests of the Central Protopresviteriat: rev. Stepan Balahura, court vicar of the archdiocese, Metropolitan prot. Yuriy Novitsky, protopresviter of the Central Protopresviteriat of Ivano-Frankivsk, priests of the Metropolitan Cathedral, as well as rev. Vasyl Pavelko, pastor of the Roman Catholic community of Ivano-Frankivsk.
At the conclusion of the joint prayer the Nuncio greeted all the faithful of the archdiocese, wishing all God's blessings and Christmas joy. On that day Archbishop Thomas Edward Hallickson visited the offices of the Archeparchy and familiarized himself with many projects undertaken by the Archeparchy. Metropolitan Volodymyr described to the honored guest the course of the realization of these projects.
Rev. Yuriy Truhan,Press Secretary of Ivano-Frankivsk Archeparchy
PUBLICATIONS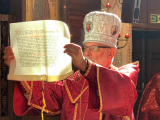 TO OUR BELOVED BROTHER IN CHRIST Most Reverend Bishop Kenneth Anthony Adam Nowakowski
MEDIA