On the wall of St. Yura Cathedral a memorial plaque to honor Fr. Markiyan Shashkevych was consecrated
Tuesday, 01 August 2017, 16:25
On the occasion of 152-th anniversary of birth of the righteous Metropolitan Andrej Sheptytsky in the St. Yura Cathedral took place the Hierarchical Divine Liturgy celebrated with the participation of auxiliary Bishop of Lviv Archeparchy Volodymyr. After the Liturgy the memorial plaque in honor of Fr. Markiyan Shashkevych was opened, which was blessed by Bishop Volodymyr.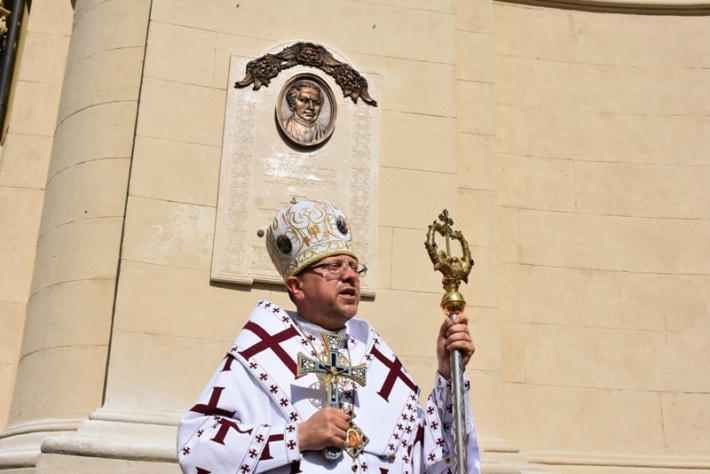 The representatives of the authorities, academics, researchers and faithful united in the joint prayer.
Addressing all the present, Bishop Volodymyr, in particular, said: "A man wants to add a couple more years to his life but it is more important to add some life to one's years. This is what the personality of Markiyan Shashkevych tells us about. He lives in our memory, in our actions, in everything he spoke and wrote about."
"We need Markiyan Shashkevych, whom everyone calls the awakener of Ukraine, who woke national conscience in people, very much today. For not everyone has awaken yet. Such figures are an example and signpost for each of us in our work on building strong Ukraine," noted during the celebrations the First Deputy Head of Lviv State Administration Rostyslav Zamlynsky.
The initiators of making the memorial plaque to Markiyan Shashkevych are the Public Council "Saint Yur." The plaque is made after the esquisse of that one which was placed on St. Yura Cathedral 106 years ago (according to the archive documents.) That plaque was stolen during the Moscow occupation in 1914 after imprisonment of the Metropolitan Andrej.
By the way, memorial plaques to M. Shashkevych are also placed on the wall of the UGCC Holy Trinity Cathedral in Drohobych and the UGCC Church of Resurrection of Christ in Vynnyky.
Western bureau of "Living TV" based on the materials of site www.loda.gov.ua
PUBLICATIONS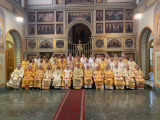 COMMUNION AND UNITY IN THE LIFE AND MINISTRY OF THE UKRAINIAN GREEK-CATHOLIC CHURCH
MEDIA