On the World Food Day, the CF "Caritas Kyiv" provided assistance to 160 poor people
Saturday, 20 October 2012, 11:35
"The Charity Foundation "Caritas Kyiv" in collaboration with the Kyiv City Charity Foundation "Food Bank", "METRO Cash & Carry Ukraine" ,"Kraft Foods Ukraine" and a number of other companies, on the World Food Day (that is- October 16) as well as on the Day of the Food Industry Workers, has provided assistance to the people who are in need. In particular, during that day there were: the organized lunch and dinner for children from large, low-income families as well as from families that are in crisis, for half orphans and children with disabilities (80 people in total); the lunch-dinner provided for the street children and youth (20 people); 30 food packages provided for elderly single people with disabilities, as well as 30 food packages for the poor single-parent families. This was reported by Fr. Roman Syrotych, who is the director of CF "Caritas Kyiv."
The World Food Day was established by the UN in 1945. The purpose of this Day is "to strengthen the solidarity in fight against hunger, malnutrition and poverty," and this also describes the efforts and work of Caritas (to help people in need, to get those people who freeze warm, to feed those who are hungry, etc.). The other co-organizers also set for themselves similar tasks. For example, the Kyiv City Charity Foundation "Food Bank", just like Caritas, seeks to revive and develop the tradition of philanthropy - "the implementation of measures aimed at improving food security for the socially disadvantaged groups."
This assistance is very important not only for the families who are experiencing the difficult times, but also for companies that are involved in this good activity. This is the solidarity in difficult times with the society that find itself to be in need. This is particularly valuable in terms of pre-election campaign, which could always have been characterized as a deceptive "attention and concern" of the candidates. "Kyiv Caritas works in the urban community for many years and of crucial importance in our work is avoidance of such "political" games.  Everyone, who receives assistance from the foundation, know that we are working with them, regardless of political affiliation "- concludes the social pedagogue of CF "Caritas Kyiv" Vyacheslav Fedchenkov.
"On behalf of all those who have received assistance, I would like to express my gratitude to those who provided it and who has assisted to the arrangement of this noble deed. I am calling for a cooperationin providing the assistance to the people in need, the number of whom is unfortunately growing", - says Fr. Roman Syrotych, who is the director of Caritas Kyiv.
The press-service of the Charity Fund "Caritas Kyiv"
PUBLICATIONS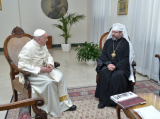 3 July at 10:00 AM, at Casa Santa Marta in the Vatican, Pope Francis met with His Beatitude Sviatoslav. The meeting was held at the request of the...
MEDIA