"Open to embrace you all and wish you peace, because Christ is risen among us", – His Beatitude Sviatoslav
Wednesday, 23 April 2014, 09:30
In the days of the Easter holidays His Beatitude Sviatoslav gave a traditional interview to "Channel 5". The interlocutors discussed various current topics of today's Ukraine life in it.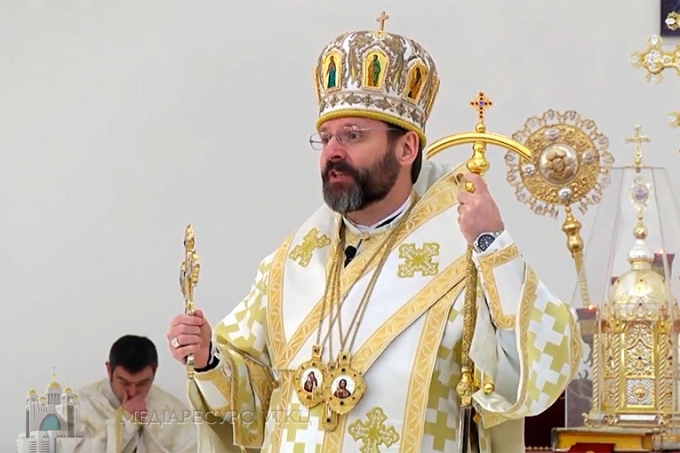 This Easter I want to invite you to a very specific change. Let each of us ask yourself: do I give bribes and take them? For anyone who takes a bribe, has the blood of Heavenly Hundred on his hands, just as those who shouted to crucify Jesus, had His blood on his hands.
With such proposal the Father and the Head of the church addressed, answering the question of celebrating Easter, to have a positive impact of celebration.
Talking about the difficult situation in Eastern Ukraine, His Beaitude Sviatoslav expressed his deep respect for the brothers and sisters who live in these lands and "may think a little differently than people in Central or Western Ukraine, consider Russian as their mother tongue". "We are the children of one land and none alien will help us to live better", - stressed the Head of the UGCC .
His Beatitude Sviatoslav pointed that the first words of Jesus' greetings for His students were the words "Peace be with you". "I want to say to all those who have become "embittered" in the heart: Peace be with you. Let peace win the war! I think that after Good Friday with the power of the Resurrection Easter joy will come"- continued the Archbishop of the UGCC.
" Open to embrace you all and wish you peace, because Christ is risen among us", - concluded His Beatitude Sviatoslav.
UGCC Department of Information
MEDIA