Patriarch Sviatoslav greets Roman Catholics in Ukraine on Christmas
Sunday, 25 December 2011, 21:29
On December 24, Patriarch Sviatoslav (Shevchuk), the head of the Ukrainian Greek Catholic Church, took part in the Christmas Mass (Pastyrtsi) of the Roman Catholics in Ukraine in the Church of the Dormition of the Blessed Virgin in Lviv. Archbishop of Lviv of the Roman Catholic Church in Ukraine Mieczyslaw Mokrzycki during the sermon expressed great joy that the head of the UGCC took part in the service "to share together the joy of the Nativity of Christ."
On December 24, Patriarch Sviatoslav (Shevchuk), the head of the Ukrainian Greek Catholic Church, took part in the Christmas Mass (Pastyrtsi) of the Roman Catholics in Ukraine in the Church of the Dormition of the Blessed Virgin in Lviv. Archbishop of Lviv of the Roman Catholic Church in Ukraine Mieczyslaw Mokrzycki during the sermon expressed great joy that the head of the UGCC took part in the service "to share together the joy of the Nativity of Christ." "We had the opportunity to meet many times and today we are very happy that you came to us to Lviv to share the joy of Christmas. This is for us a very big honor and joy," he said. Archbishop Mieczyslaw also thanked "for the good cooperation, which was manifested at the beginning of the ministry" of His Beatitude Sviatoslav. In his turn, the head of the UGCC said he has "the great honor on behalf of the entire Ukrainian Greek Catholic Church to greet all on the bright feast of Christmas." His Beatitude Sviatoslav recalled that that last week he and Archbishop Mokrzycki had the honor of "giving the Holy Father Benedict a Ukrainian Christmas tree in the Vatican." "Together we said that Christmas is a holiday of unity and peace. Unity because in the newborn Jesus Christ, God and human are forever united in one person. And at the same time the Creator and creation unite, give the entire world joy and fullness of life. And it from where peace comes. Christ is our peace," said the head of the UGCC. He wished all unity and peace. "Unity in the testimony of the Catholic faith in Ukraine so that the unity of the Latin and Eastern Rite testifies the Catholicness of One Church
of Christ and is the source of peace for our country and for the whole world," said the patriarch. "Merry Christmas and a happy New Year. Peace, unity and God's blessing!" the head of the UGCC wished the faithful.  
UGCC Information Department
PUBLICATIONS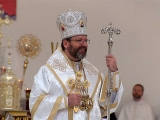 Can Easter be considered as a peculiar Christian holiday of victory and freedom of a human's will? Are we able through terrestrial examples...
MEDIA