Patriarchal Choir visits Children's City Hospital No. 1 in Kyiv
Thursday, 31 January 2013, 14:53
On the 30th of January this year, the Patriarchal Choir of the Cathedral of the Resurrection of Christ in Kyiv visited Children's City Hospital No. 1 on Bohatyrska Street at the invitation of the hospital chaplain, Rev. Viatliy Voyetsa. The choir, conducted by Tetiana Stefanyshyn, gave a concert of Christmas carols in the surgical and orthopedic wards.
"In our hospital it has become a good tradition to greet the choir of the Patriarchal Cathedral of the Resurrection of Christ in Kyiv," said Rev. Vitaliy. "We are very pleased that already for the third year in a row, the hospital walls echo with carols that are, as always, beautifully sung.  I am very happy to inform you that this year it was the medical staff themselves that wanted to be sure that the choir would visit us.  By the way, doctors and patients from neighboring wards came to hear the carols."
"As every year, we go to this hospital with great joy, expecting to see those whom we already know and to meet new people," states Ms. Tetiana.  "For us it is a great joy when God's seed, which gets sown through our singing, ends up exactly in this place -- to fall into the worn out by sickness hearts of children and their parents.
After the concert, all the small audience members received sweet treats which were funded by the Charity Fund Caritas – Kyiv, represented in person by its director Roman Syrotycha.  Children also received prayer missals and holy cards thanks to the effort of Rev. Oleksiy Henyk from the parish of St. Mykolay on Askolds Hill in Kyiv and the support of the Commission for Protection of Health of the Kyiv Archeparchy.
Those who could not attend due to their state of health were personally greeted by Rev. Vitaliy in their rooms with warm words and gifts.  For a long time after the concert one could still hear happy children's voices which repeated over and over: "Christ was born…!  God became man…!"
Reported  by Oleksandr Homeniuk
PUBLICATIONS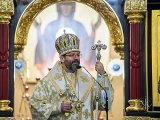 Head of the Ukrainian Greek Catholic Church brings multifaceted experience to project of evangelization.
MEDIA