Pilgrims from Slovakia visited "Zarvanytsia" shrine for the first time
Thursday, 12 July 2018, 13:55
July 8-10 pilgrims from Slovakia made their first pilgrimage to Marian Spiritual Center "Zarvanytsia". Over 60 foreigners, headed by Fr. Joseph Fabishek from Choňkovce, the Košice Region got to this spirit-renewing destination.
In the cathedral of the Mother of God of Zarvanytsia Fr. Joseph Fabishek together with Fr. Andriy Shalay served a Divine Liturgy. Afterwards, Fr. Volodymyr Firman, Rector of the Marian Spiritual Center "Zarvanytsia" read a thankful letter and bishop Vasyl Semeniuk, Archbishop and Metropolitan of Ternopil – Zboriv rewarded Fr. Joseph with a pectoral cross. Father and his parishioners took an active part in transporting an icon of Mother of God of Zarvanytsia from Vatican to Zarvanytsia.
For reference, October 15, 2017 in Vatican His Holiness Pope Francis blessed a crown for an icon of the Mother of God of Zarvanytsia. Within a long time, the icon remained in different locations of Europe for adoration. Plenty of Ukrainian migrant workers and faithful of Roman Catholic Church were praying in front of it.
Pilgrims from abroad were praying The Stations of the Cross, attended all churches of the Marian Spiritual Center and parochial church of The Holy Trinity, a place where Ukrainian Jerusalem had been formed.
West office of "Zhyve.TV" by www.zarvanytsya.org
PUBLICATIONS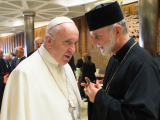 An unprecedented event took place in Rome on July 5-6. Desiring to demonstrate support for the Ukrainian Greek-Catholic Church at a time of...
MEDIA