Pope to the Head of the UGCC: "Ukraine remains in my heart"
Friday, 16 October 2015, 18:27
Staying in Vatican with an official visit to participate in Pope's Synod on the Family, His Beatitude Sviatoslav met with a Holy Father and told once again about a situation in Ukraine. A meeting of Bishop of Rome with the Head of the UGCC was held yesterday, October 14.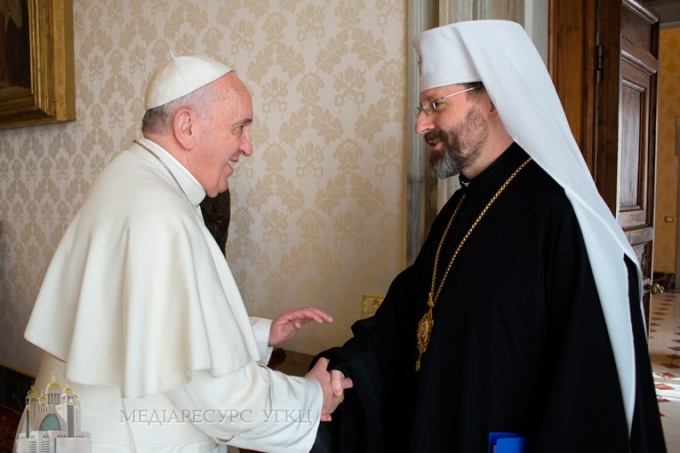 During the conversation His Beatitude Sviatoslav told Pope Francis about a humanities crisis in Ukraine, erupted because of war on East Ukraine. The Head of the Church announced Pope data of UN about more than 1,5 million of internally displaced persons, the victims of war in Donbas. His Holiness assured His Beatitude Sviatoslav in prayer and support to restore and build a peaceful life in Ukraine. "Ukraine remains in my heart", - stressed Pope Francis.
Apart from this, the Head of the UGCC thanked His Holiness for extolling the heroic virtues of metropolitan Andrey Sheptytsky. He mentioned that a figure of Metropolitan Andrey is invaluable in life of our Church and signing a decree concerning his heroic virtues indicates a great support of Ukraine by Apostolic City".
As it was informed by the Head of the UGCC, so far it has being investigated the miracle of healing, happened in the territory of the USA through the mediation of prayers to Metropolitan Andrey. This fact has been already stated canonically. A meeting of medical men will be held soon in order to study this miracle.
On this occasion His Beatitude Sviatoslav presented Pope Francis with a medal with an image of great Metropolitan on it, made on occasion of his 150th birthday anniversary with the efforts of f-r Volodymyr Palchynskiy, monk from OSBM rank, Ivano - Frankivsk cloister. Papa accepted that present with gratitude and became interested about symbols of images on this medal.
His Beatitude Sviatoslav told that UGCC, November 1st, 2014 started a celebration of the Year of metropolitan Andrey, also commemorating 70th anniversary since the day of his death. A culmination of all events became a celebration of his birthday on the state level, in Lviv. "Then we consecrated a monument to the great Metropolitan. The President of Ukraine also attended that event", added he. Thus this event has gone beyond Galicia borders. As it is also known one more monument was unveiled in Ivano-Frankivsk during the Patriarchal Council of the UGCC "The Vibrant Parish – a Place to encounter a Living Christ".
"November, 1 we will end a Year of metropolitan Andrey. The day before (October, 28) an opening of a memorial desk will take place on the building of a former Central Rada in Kyiv (A Pedagogical Museum today). It is known that exactly at this place metropolitan Andrey, coming back from Russia, met with members of CIA to discuss factual basis of a state foundation of Ukrainian independent country", - told the Head of the UGCC.
Later, October, 29 in Kyiv will be held a scientific conference where will participate intellectual elite of Kyiv. A theme of the conference concerns to the figure of Metropolitan and his activity on Church, social and state and international fields, as well. Finally, November, 1st the Year of metropolitan Andrey ends with a ceremonial academy at Kyiv Opera House.
"The more we reveal ourselves a figure of Metropolitan, the more we realize how little we know about him. Say you regretfully, his figure remains unknown for a wide range of Ukrainians. That is why these jubilee celebrations have had to become a opportunity to tell all Ukrainian people about this pious man", - finished His Beatitude Sviatoslav.
The UGCC Department of Information
according to "Saint Sophia" community press-service
PUBLICATIONS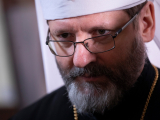 Christ is Risen! Dear Brothers and Sisters in Christ!
MEDIA