President Zelensky asked Church leaders to help counter the spread of COVID-19
Tuesday, 20 October 2020, 11:52
His Beatitude Sviatoslav, Father and Head of the Ukrainian Greek Catholic Church, took part in a joint meeting of the All-Ukrainian Council of Churches and Religious Organization with President Volodymyr Zelensky to discuss the deteriorating situation with the coronavirus.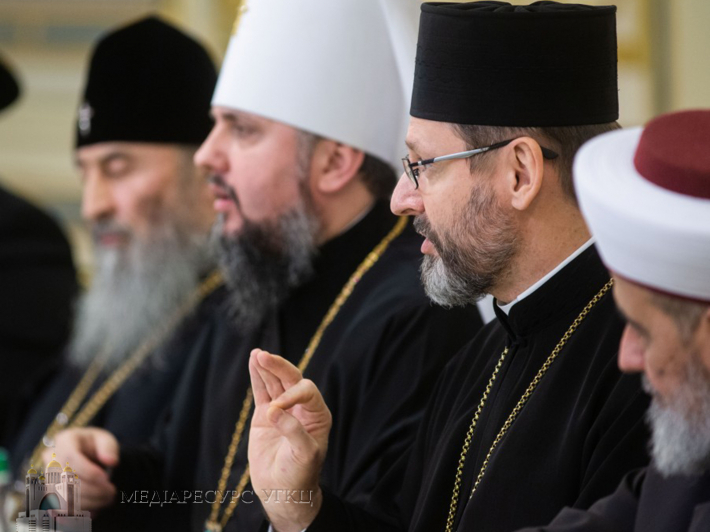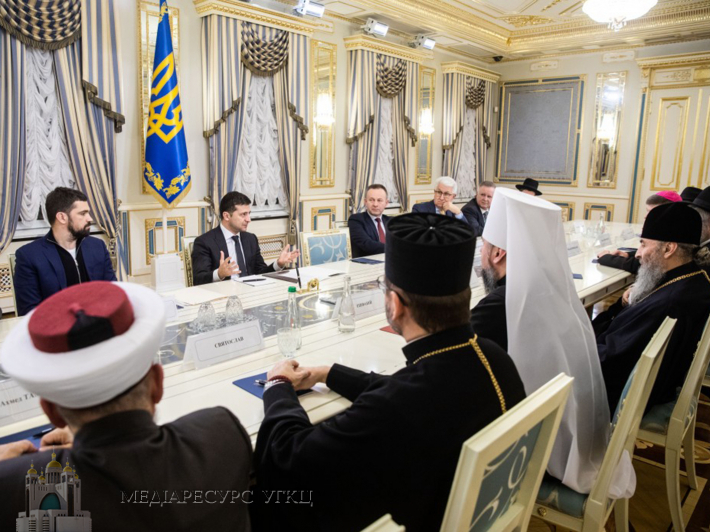 According to the UGCC Information Department, the President raised two issues with representatives of religious communities. The first is COVID-19.
"The President said that if the number of cases reaches 9,000, the state will go into lockdown. That is why the President and the Prime Minister are looking for partnership with the religious community in counteracting the pandemic," His Beatitude Sviatoslav said.
In particular, the Head of the Church added, the President asked religious leaders to appeal to the elderly, people who over 60, to stay at home and save their lives.
Second, he asked for the presence of Churches in the Minsk Trilateral Contact Group.
At the meeting, the Head of the UGCC thanked the President for considering the Churches as partners in preventing the spread of the disease.
His Beatitude Sviatoslav also noted that it is important now to support doctors.
"Many of our eparchies have purchased mechanical ventilation. We try to accompany our doctors in their ministry, because they have been in a state of emergency for six months already and need to feel gratitude and support from society. Today, the medical chaplaincy is one of the elements of how the Church can help our doctors," said the Primate.
The Head of the Church also noted that this pandemic has exposed other problems of society. "When we talk about COVID, we are also talking about the social consequences, and in particular the impoverishment of people. 1/4 of the people of Ukraine and 80% of pensioners today live below the poverty line. That is why it is very important to unite the efforts of the state and the Church to protect the most vulnerable," he stressed.
The Primate told the President and other participants of the meeting about the action launched at the UGCC "Feeding the Hungry" to meet the basic needs of poor people.
His Beatitude Sviatoslav also touched upon the topic of surrogacy. "Just yesterday was the European Day against Trafficking in Human Beings. Surrogacy, done for commercial purposes, is nothing but human trafficking," he said. According to him, a woman who is forced to trade her motherhood due to financial difficulties is a real shame for our state. "Therefore, I ask to regulate it at the legislative level, as it is in other European countries," said the Primate.
Another issue that His Beatitude Sviatoslav spoke about is the introduction of military chaplaincy at the legislative level. The Head of the UGCC called for the involvement of Church representatives in the process of discussion and final approval of the text of the law.
The UGCC Department for Information
PUBLICATIONS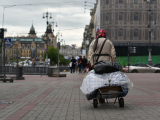 Pastoral Letter of the Synod of Bishops of the Ukrainian Greek-Catholic Church of 2020 to the clergy, religious, and laity...
MEDIA