Prison chaplains of the UGCC are copying the experience of their Polish colleagues
Wednesday, 24 October 2012, 12:01
During the 21-25 of October 2012, at the Prison Staff Training Centre of the Polish prison service in Popovo that is situated near Warsaw, there will be held the XXII Polish national meetings, retreats and trainings of all Catholic chaplains who work in prison pastoral care and in the post-prison pastoral care.
At the invitation of the chief chaplain of the Roman-Catholic Church in Poland, Father-Prelate Paul Voytas, the event will be attended by four priests of the UGCC prison pastoral from various dioceses. According to Fr. Kostyantyn Panteley, who is the head of the UGCC Department for Pastoral Care in the Penitentiary System of Ukraine, "Ukrainian chaplains will have the opportunity to experience the atmosphere of brotherly meeting of almost 200 chaplains and to share experiences of service with the Polish ministry of pastors. International experience is the basis for the development of the concept of prison chaplaincy in Ukraine. "
http://prison-pastoral.blogspot.com/2012/10/blog-post_5901.html
PUBLICATIONS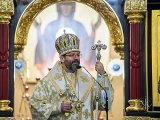 Head of the Ukrainian Greek Catholic Church brings multifaceted experience to project of evangelization.
MEDIA