Recitation of the Taras Shevchenko's poems in UCU
Wednesday, 11 March 2015, 12:38
On the 10th of March, on the occasion of the 201st anniversary of Taras Shevchenko's birthday and of the 154th anniversary of his death dean of the faculty of humanities decided to organize the recitation of the poems written by Shevchenko.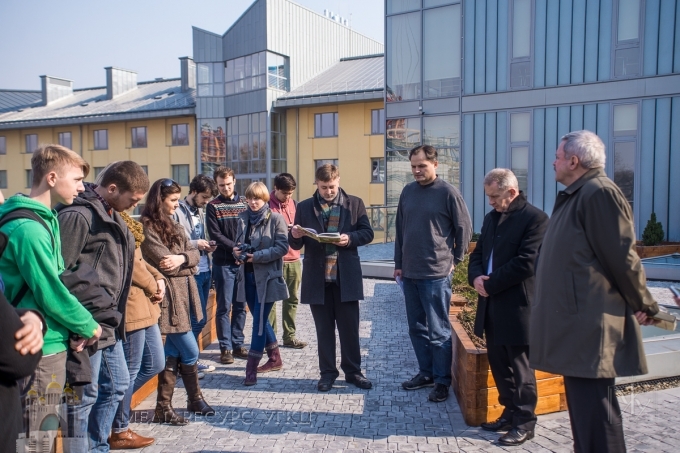 The recitation took place in UCU Academic corpus. Everyone, who was willing to come could bring his own "Kobzar" and read his favorite poem. Not only students responded to the call to come and read the poems, but also professors and university administration joined the occasion. "We triggered this event in order to feel the energy that Taras Shevchenko shared through his poems according to our today's situation", ­mentioned UCU Rector, Fr. Bohdan Prach at the beginning of the meeting. Later he recited a fragment of "To the Dead, the Living, and to Those Yet Unborn, My Countrymen all Who Live in Ukraine and Outside Ukraine" s long as Ukrainians will paint Easter eggs, they will exist in the world. These are the stirs of our souls that help us to feel the depth of our essence. Maidan was penetrated with the Shevchenko spirit. And our today's occasion is our attempt to find those depths that are so important for us", – cemented vice­rector of the UCU, Myroslav Marynovych. Myroslav Marynovych recited a fragment of the poem "Kawkaz". But Igor Skochylias, Dean of the Faculty of Humanities at UCU was the first one to speak.
"Kobzar" for children, the one he is often reading to his children. That is why the firs poem everyone heard was the "Water Flows from under a Sycamo]As far as Igor Skochylias is a historian, the second poem chosen by him was "Bandura­Player, The Grey Eagle" which is dedicated to Mykola Markevych, the historian. Everyone, who came could read his favorite poem or any fragment. The poem "Testament" was recited three times. Firstly, Denys Koliada, UCU student, who was born near the location where Taras Shevchenko was laid to rest, recited the poem. After a while UCU professors and Rostyslav Paranko, the interpreter read the poem in Italian. But he did this in a special manner­ like an Italian would do this, with an appropriate temperament and gestures. And the third time all the present sang it altogether as a choir. ]Shevchenko was also depicted on the pictured painted by the modern artists. So that people could not only listen to his poems but imagine that spirit of the great poet is with usIf two years ago someone had seen such poster, they might have said that this is a dishonor of the great poet. But it is of big interest at this time",­ expressed his opinion Orest Lylo, Candidate of Sciences in History and Associate professor.
Press service UCU
PUBLICATIONS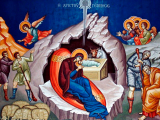 Most Reverend Archbishops and Metropolitans,God-loving Bishops, Very Reverend Clergy, Venerable Monastics,Dearly Beloved Brothers and...
MEDIA