Representatives of the Eparchy of St. Josaphat in Parma (USA) Took Part in the International Catholic Conference on Stewardship
Thursday, 29 October 2015, 11:57
Catholics from all over the United States of America, Canada, Mexico and beyond gathered together on October 22-25, 2015 at the Hyatt Regency Hotel in Chicago, Illinois for the annual conference on stewardship, organized by the International Catholic Stewardship Council (ICSC).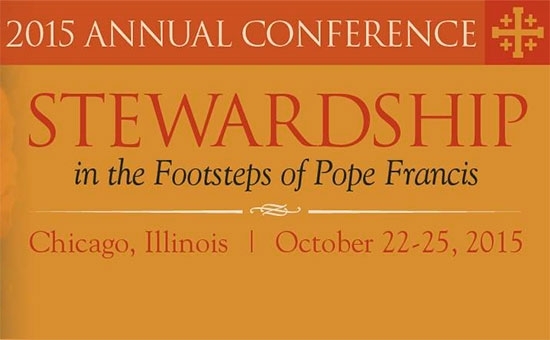 The Ukrainian Catholic Church was represented at the conference by Mr. John Kurey, Director of the Stewardship Office of the Eparchy of St. Josaphat in Parma and Fr. Lubomyr Zhybak, pastor of Holy Trinity Ukrainian Catholic Church in Youngstown, OH and St. Anne's Ukrainian Catholic Church in Austintown, OH.
The theme of this year's conference was "Stewardship in the Footsteps of Pope Francis." The conference commenced with an opening prayer, followed by a plenary session, whose main speaker was Bishop William Skylstad, Bishop-Emeritus of the Roman Catholic Diocese of Spokane (Washington) and former President of the United States Conference of Catholic Bishops (USCCB).
The conference's participants experienced the Catholic vision of Christian stewardship as a way of life in light of the pontificate of Pope Francis.During the conference hundreds of bishops, priests, deacons, diocesan stewardship and development directors, parish leaders, professional firms, Catholic associations and religious congregations from around the world had a chance to gather together for Eucharistic Celebrations, lively presentations, workshops, and major addresses. Timely topics by expert and experienced speakers filled the conference's comprehensive program. Experts shared practical information and experiences that have proven successful. The annual award presentations, networking luncheons, engaging receptions and specialized exhibits likewise supplemented this wonderful and valuable event.
Solemn and inspiring Liturgy on 23 October was presided over by Bishop Donald Hanchon, Auxiliary Bishop of the Roman Catholic Archdiocese of Detroit and concelebrated by many priests and deacons.
The conference concluded with the gala awards reception, dinner and closing plenary session, whose main speaker was Angela Perez Baraquio Grey, a Catholic educator, Miss America 2001 and author of the faith-based memoir "Amazing Win, Amazing Loss:
Miss America Living Happily, Even After."
The next conference is planned for October 2-5, 2016 in New Orleans, Louisiana (USA).
Department of Information of the UGCC based on the materials of the ICSC
PUBLICATIONS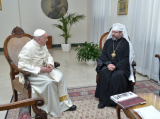 3 July at 10:00 AM, at Casa Santa Marta in the Vatican, Pope Francis met with His Beatitude Sviatoslav. The meeting was held at the request of the...
MEDIA