Representatives of the Ukrainian Catholic Eparchy of St. Josaphat in Parma (USA) Participated in the National Conference on Catholic Youth Ministry
Monday, 05 December 2016, 14:14
Over 3,000 Catholics from all over the United States of America gathered together on December 1-3, 2016 at the Convention Center in San Jose, California for the biennial National Conference on Catholic Youth Ministry (NCCYM), organized by the National Federation for Catholic Youth Ministry (NFCYM).
The Ukrainian Catholic Church was represented at the conference by Fr. Lubomyr Zhybak, Director of the Eparchial Youth Committee and pastor of Holy Trinity Ukrainian Catholic Church in Youngstown, OH and St. Anne's Ukrainian Catholic Church in Austintown, OH and Mr. Michael J. Levy, member of the Eparchial Youth Committee and parishioner of St. John the Baptist Ukrainian Catholic Church in Pittsburgh, PA.

The theme of this year's conference was "Connect in Christ." The conference began with an energetic, multi-cultural Holy Mass, celebrated by Bishop Frank J. Caggiano, Bishop of the Roman Catholic Diocese of Bridgeport (Connecticut) and episcopal advisor to NFCYM, and concelebrated by Fr. Lubomyr Zhybak and other priests and deacons from various Roman Catholic dioceses. During his engaging homily, Bishop Caggiano encouraged the participants to build their lives on the solid foundation of faith, which is our Lord and Savior Jesus Christ. He asked that the youth ministry leaders remained focused on their mission of bringing Christ to the young Church.

The conference's participants experienced a deeper understanding of gifts and challenges of Catholic youth ministry in the United States. The youth ministers were able to discover new ways of evangelization through the Eucharistic celebrations, availability of the Sacrament of Reconciliation, personal prayer, dynamic and engaging presentations, interactive workshops, personal sharing of youth ministry experiences, and fellowship. Biennial award presentations, networking luncheons, netsourcing sessions and specialized exhibits supplemented this powerful and valuable conference.

The keynote speaker, Bishop Frank Caggiano, delivered a very poignant presentation. The hierarch spoke of the importance of connecting to Christ. He used the examples of the early Church communities – "giants of the faith" – and compared their struggles and challenges to the modern context. He stated that "we are living a moment of honest realism" and not in a time of crisis. The modern challenges present to us opportunities, rather than stumbling blocks, to spread and share the love of Christ with the young people "one person at a time." Bishop Caggiano continued by stating that ministry to the youth in our age and time will demand a willingness to take upon ourselves the "burden of love." He challenged the audience by asking them "Are we ready to do it?" The answer, albeit imperfect, is "yes, we are!"

The conference concluded with the Holy Mass, presided over by Bishop Patrick J. McGrath of San Jose and concelebrated by numerous priests and deacons. The next conference is planned for December 6-8, 2018 in Tampa, Florida (USA).

Department of Information of the UGCC
PUBLICATIONS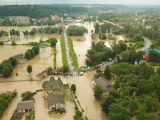 Your Graces and Excellencies, Very Reverend and Reverend Fathers, Venerable Brothers and Sisters in monastic and religious...
MEDIA