"Representatives of various Churches in Ukraine expressed their respect and solidarity…", - UGCC Head
Monday, 09 September 2013, 12:31
Today, relations between UGCC and the Orthodox are stable. One feels from their side an avoidance of showy meetings. However, it is very logical that one should not "play up" to the audience but answer serious questions in this mutual dialogue. Such a dialogue is being conducted on different levels and with varied success.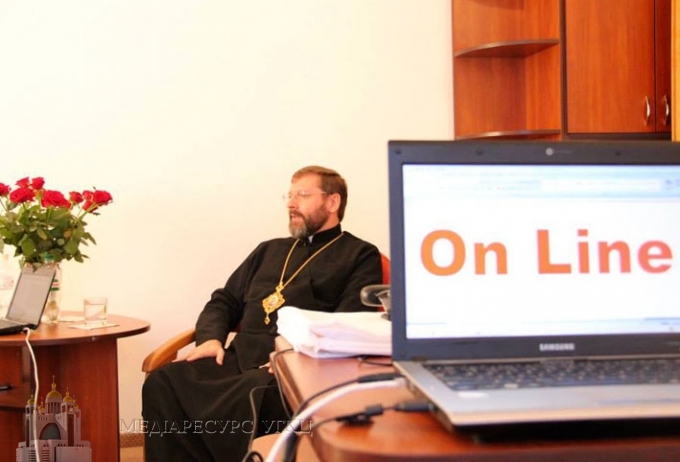 So stated His Beatitude Sviatoslav (Shevchuk), UGCC Head, on September 4th, during a RISU web-conference.
UGCC Head believes that the dialogue with the Orthodox is today no less intense than in previous years. However, it needs "constant monitoring and attention." "One cannot judge the quality of our dialogue and cooperation with the Orthodox simply by the presence or absence of their priests at certain events. I think that this is a limited way of measuring the intensity of our relationship," he commented.
In a more detailed discussion of this issue, UGCC Major Archbishop recalled the events around the celebration of the 1025th anniversary of the Baptism of Rus-Ukraine in Kyiv and the blessing of the UGCC Patriarchal Cathedral of the Resurrection of Christ held on August 17-18.
"These events were attended by the representatives of the Orthodox Churches of Ukraine as well as other members of the All-Ukrainian Council of Churches and Religious Organizations (AUCCRO)." We are pleased that a bishop of the Lutheran Church came from Odesa especially for this and joined the Moleben [Prayer Service] on Volodymyrska Hirka. At the beginning of UGCC Synod of Bishops, Bishop Yevstratiy (Zoria) arrived with a special epistle from Patriarch Filaret. And the Liturgy and concert during the pilgrimage program to the Patriarchal Cathedral was attended by the bishop of the Armenian Apostolic Church. The Chief Rabbi attended the celebratory Banquet," noted His Beatitude Sviatoslav, underlining that the format of the events permitted the representative of every confession to select to attend those events at which they felt comfortable.
In this manner, he believes, the representatives of various Churches expressed their respect and solidarity.
UGCC Department of Information
PUBLICATIONS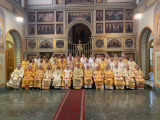 COMMUNION AND UNITY IN THE LIFE AND MINISTRY OF THE UKRAINIAN GREEK-CATHOLIC CHURCH
MEDIA