Stryi Eparchy hosts a presentation for students on "Democratic Values"
Saturday, 30 March 2013, 16:48
At the invitation of Peremyshliany Professional Lyceum Director, Ihor Nechypora, on Thursday, March 28, 2013, Yaroslav Zarychansky, the secretary of UGCC Commission on Justice and Peace, licentiate of Papal Institute Terezianum in Rome (Italy), met with students to discuss "Youth and the Church. Social aspects. Living through Christ."
At the invitation of  Peremyshliany Professional Lyceum Director, Ihor Nechypora, on Thursday, March 28, 2013, Yaroslav Zarychansky, the secretary of UGCC Commission on Justice and Peace, licentiate of Papal Institute Terezianum in Rome (Italy), met with students to discuss "Youth and the Church.  Social aspects. Living through Christ."
The gathering began with introductory remarks by Rev. Peter Zakaliaka, an assistant at the local St.Volodymyr Church and a co-organizer of the event.  The priest voiced his hope that the discussion would assist youth to a deeper recognizing of the call to holiness and to a more active life in the Church and in society.
Yaroslav Zarychansky presented to the audience of lecturers and students, numbering some 160, the Pastoral Letter of His Beatitude Sviatoslav (Shevchuk)  "The Vibrant Parish – an encounter with the living Christ" which portrays the various aspects of parish life and activities and provides basic objectives, such as, including members of the church community, especially youth, into more active efforts in order to encounter the living Christ.  "Our future depends on how our youth lives today.  One has to live with joy, enthusiasm, and above all, with a sense of responsibility for oneself, for others, for the world," noted the speaker, interspersing quotations from Pope Emeritus Benedict XVI.
In analyzing the options which today's world offers a young person, Yaroslav Zarychansky asked the students to consider also the dangers which this world carries, namely: competition or rivalry which often leads to violence; all sorts of addictions especially to the Internet; the loss of a connection to God and close ones.  After the conclusion of the gathering, the director of  Peremyshliany Professional Lyceum thanked all for such a large audience and expressed his desire to continue the collaborative efforts with UGCC Commission on Peace and Justice, especially in community and social issues, with special attention on educating youth in light of Christian -democratic values.
Information provided by Secretariat of UGCC Commission on Justice and Peace
PUBLICATIONS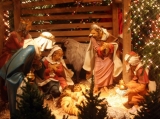 Christ is Born! "Today Christ is Born of the Virgin in Bethlehem. Today, the eternal One has a beginning, today the Word becomes...
MEDIA