"That, which is taking place today on the territories of Eastern Ukraine is the Good Friday of our Ukrainian existence," UGCC Head on TV Channel 5
Tuesday, 22 April 2014, 10:21
"That, which is taking place today in Ukraine, especially on the territories of Eastern Ukraine, is the period of a Good Friday of our Ukrainian existence."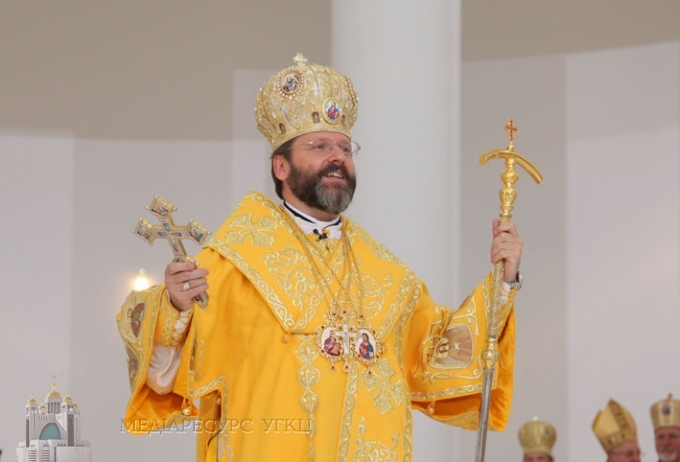 On this occasion I express my deep respect for our brothers and sisters who live on the territories of Eastern Ukraine and, perhaps, think somewhat differently than the people in Central or Western Ukraine, and consider the Russian language as their native one. We are all children of one land and no foreigner will help us to live better.
His Beatitude Sviatoslav, Father and Head of UGCC, said this in the traditional Easter interview on TV Channel 5, broadcast on April 20, 2014, on Easter Sunday.
What Ukraine is experiencing right now, he compares to Good Friday, since the Ukrainian people, similarly to Jesus Christ, became a stumbling stone for many: "Then the hearts of many people became cruel. People, seeing the humiliated Christ, did not recognize God in Him and screamed:'Crucify Him!', similarly to how they behave today towards our country."
His Beatitude Sviatoslav noted that the first words with which Jesus greeted his followers were "Peace unto you". "I want to say to all whose hearts have become 'embittered': Peace unto You! May peace conquer war! I believe that after Good Friday, with the strength of the Resurrection of Christ, there will emerge a Paschal Joy," continued UGCC Major Archbishop.
He added that he would like that all Christians, independent of their confessional adherence, become the bearers of reconciliation, which "always has a chance to overcome the temptation of war, the temptation to resort to the use violence."
"I open up my arms in a wide embrace to all of you and wish you peace because the Resurrected Christ is among us," concluded His Beatitude Sviatoslav.
UGCC Department of Information
MEDIA