The Christian magazine "Slovo" was presented in Ivano-Frankivsk
Thursday, 31 January 2013, 12:25
On the 27th of January, in Ivano-Frankivsk, there was taking place the presentation of the Christian magazine "Slovo", which was attended by over a hundred people. Among the subscribers the prizes were raffled. The main prize - the certificate for a free pilgrimage to Rome was won by the subscriber from Ivano-Frankivsk, Maryana Chernetska. The organizers of the event were the publishing house "Apostol" and the Pilgrimage Center of Our Lady of Perpetual Help.
Father Roman Terletsky, the church trustee and the theological editor of the magazine, while presenting this publication, said: "Our magazine wants to provide the person of the present-day world with the eternal Christian truths in an accessible and understandable for him or her way, to show the relevance of the Gospel and the Christian Science, to open the blessing of the Church".
"The appeal of the Blessed John Paul II to the new evangelization demands, that we, the Catholic laymen, not only know about faith, but also were willing to explain it intelligently, to defend it with love and to share it effectively. Our slogan is - "We talk about everything, but in a Christian way". After all, the Gospel, through the Church, affects all spheres of human life and gives answers to all the questions", - said the chief editor of the magazine, Ulyana Andrusiv.
The winner of the raffle certificate, the trip, was presented by the representative of the Pilgrim Center of Our Lady of Perpetual Help, Vasyl Voznyak. He stressed: "We really like the magazine because of its content, design and also because of the selection of topics. For me, for a young person, it is a pleasure to hold such a publication in my hands, and, in particular, it is a pleasure that this magazine is Christian. It deserves to be seen far beyond the boundaries of Ivano-Frankivsk or Kyiv. I, myself, impatiently look forward to a new issue of a magazine".
The subscribers also received gifts from publishing house "Apostoe", that were presented by the director of the editorial, Ivan Osadchuk.
It should be reminded that all-Ukrainian Christian magazine "Slovo" is published in the publishing house "Apostol". The idea of creating ​​"Slovo" was introduced in 2011. Gradually, the magazine started to be distributed all around Ukraine and the need to expand it arose. From 2012, the magazine began to be published every two months, with more pages and sections. In 2013, the subscription to it was initiated.
The purpose of the magazine - to promote Gospel values, to talk about the history of the Ukrainian Greek Catholic Church and the faith of people, who created it, to deliver to the readers the Good News, by representing the view of the Church on complex issues of the present day with a fresh modern style, in full color graphics and in innovative format.
www.apostol.if.ua
PUBLICATIONS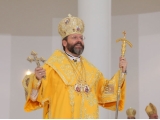 Most Reverend Archbishops and Metropolitans, God-loving Bishops, Very Reverend Clergy, Venerable Monastics, Dearly Beloved Brothers...
MEDIA