The Eparchy of St. Josaphat in Parma (USA) Held a Conference for Its Clergy
Thursday, 27 April 2017, 08:04
The clergy of the Ukrainian Catholic Eparchy of St. Josaphat in Parma held their annual conference April 25-27, 2017 at Days Inn in Richfield, Ohio (USA).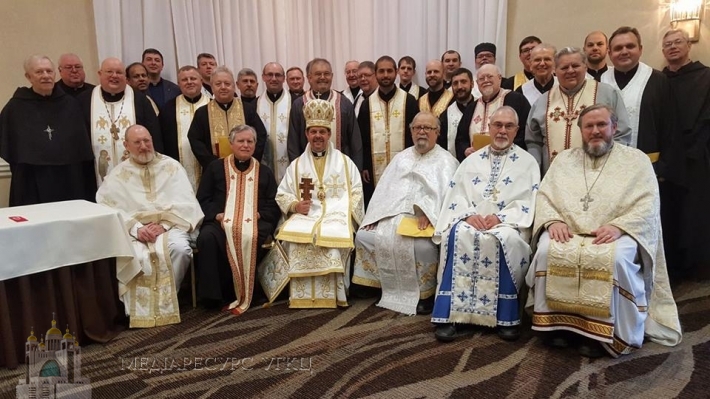 The conference, led by the eparchy's Ordinary, Bishop Bohdan Danylo and attended by the priests ministering in the eparchy that stretches from the State of Ohio all the way to the State of Florida, comprised a few parts. On the first day, after welcoming the participants, Bishop Bohdan had presentations in regard to the pastoral planning for 2017 and the current Year of Diakonia in the Ukrainian Catholic Church. He likewise went over the statistics of the eparchy as well as talked about the current state of affairs with the Vibrant Parish program. The present clergy also took part in lively discussions vis-à-vis parish ministry.
On the second day of the conference, in addition to partaking in the Hierarchical Divine Liturgy and some other liturgical celebrations, the clergy heard presentations by Very Rev. Msgr. Peter Waslo, a canon lawyer from the Ukrainian Catholic Archeparchy of Philadelphia on matrimonial dispensations and the annulment process. Also, Fr. Volodymyr Hrytsyuk, pastor of Protection Blessed Virgin Mary parish in Solon, OH, talked to the clergy about the practical aspects of marriage encounters with couples.
On the final day of the conference, after the celebration of the First Hour and breakfast, the clergy heard presentations on various topics by Very Rev. Canon Steven Paliwoda, Eparchy's Chancellor, Financial Officer and Pastor of St. John the Baptist Ukrainian Catholic Church in Lorain, Ohio; Fr. Lubomyr Zhybak, head of the eparchial Office of Children, Youth and Young Adults Ministry, head of the eparchial Office of Children and Youth Protection and pastor of Holy Trinity Ukrainian Catholic Church in Youngstown, Ohio and St. Anne Ukrainian Catholic Church in Austintown, Ohio; Fr. Vsevolod Shevchuk, Eparchy's Vocation Director, Assistant to the Eparchy's Financial Officer and pastor of Holy Ghost Ukrainian Catholic Church in Akron, Ohio and St. Nicholas Church in Canton, Ohio; and Mr. John Kurey, Esq., Director of the Eparchy's Stewardship Office respectively.
This year's clergy conference concluded with a Hierarchical Divine Liturgy, presided over by Bishop Bohdan Danylo and concelebrated by the attending priests.
Department of Information of the UGCC
PUBLICATIONS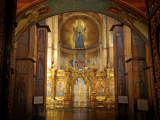 Dear brothers and sisters in Christ! Throughout our millennial history, our Church and our people have fully experienced in their bodies the...
MEDIA