The Eparchy of St. Josaphat in Parma (USA) Held a Retreat for Its Clergy
Friday, 20 October 2017, 13:16
The clergy of the Ukrainian Catholic Eparchy of St. Josaphat in Parma held their annual retreat October 17-20, 2017 at the Bethany Center of the Roman Catholic Diocese of St. Petersburg in Lutz, Florida (USA).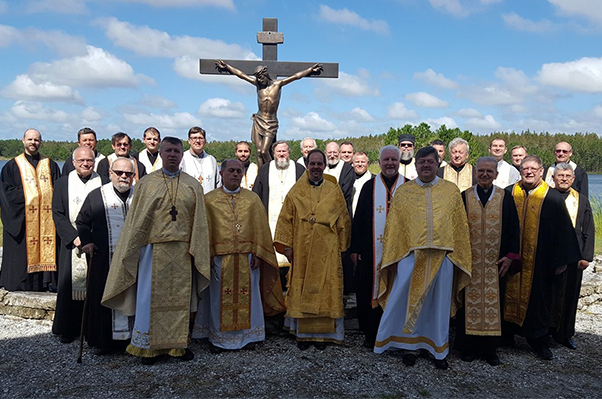 The retreat was led this year by Rt. Rev. Msgr. Martin Canavan, a retired priest of the Ukrainian Catholic Eparchy of St. Josaphat Eparchy in Parma, who currently serves as the Spiritual Director at St. Basil Ukrainian Catholic College Seminary in Stamford, CT. After Bishop Bohdan Danylo, Eparch St. Josaphat Eparchy, introduced Msgr. Canavan to the retreatants, the retreat master commenced his first spiritual conference. He began by talking about the purpose of any retreat, namely "to let our souls catch up with us," basing it on a true story of an aboriginal tribe in Australia. He went on by saying that the Spirit of God is guiding His people, bestowing on each of us different gifts, which led Msgr. Canavan to summarize the theme of this year's retreat, namely "how living from another world produces extraordinary results" in the world that we live in.
This, according to the retreat master, could be achieved by three basic steps: vision of God's love for us, the intention to live this vision, and the means to achieve it. Msgr. Canavan also said that even priests need to be ministered to, for, as St. Paul writes in his Letter to the Galatians, "Bear one another's burdens, and in this way, you will fulfill the law of Christ" (6:2). The retreat master concluded his first conference by referring to the Cherubic Song from the Divine Liturgy of St. John Chrysostom, which is a beautiful prayer example of man's vocation in life: to "lay aside all cares of life," constantly adoring our Lord through one's word, thought, and deed.
Msgr. Canavan began his second conference where he previously left off, namely that the cares of life that we are facing in this day and age are not so much the daily trials and tribulations that we might experience in our lives, but the current culture we live in – the culture that seems to promote zombie-like way of life. This is why Christians have to challenge the world, challenge the world's culture with Jesus Christ's culture. The retreat master went on by stating that we have God, Who looks for us. According to some of the Church Fathers' writings, the sin of Adam and Eve was not so much that they disobeyed God, but that they did not believe that the Lord could forgive them their sin. After our primordial parents disobeyed God, they did not start looking for Him, but the Lord started to look for them. Msgr. Canavan continued his talk by emphasizing a need for Christians to walk in faith, for Jesus' power rests in those, who believe in Him, hence, we need to seek deeper communion with the Lord, Who is always ready to renew our strengths and Who always calls us to be His beloved children. The retreat master concluded his second conference by referring to the words of Christ, Who said: "I have said these things to you so that My joy may be in you, and that your joy may be complete" (John 15:11).
During the subsequent conferences, Monsignor Canavan, among other things, placed an emphasis on a relationship with Christ as the Source of the new creation – a rapport that "begins in the very depth of our souls." He said that with the creation, God made Himself "smaller", He stepped back. Hence, if we want to make space for God in our lives, we also ought to make ourselves smaller and step back. The retreat master likewise gave an example of Blessed Omelyan Kovch and Patriarch Josyf Slipyj as great examples of "living from another place." Since we, Eastern Christians, believe in the salvific merit of our works, these works of ours are not about achievement, but about effort. Consequently, we always have to put out into the deep [cf. Luke 5:4] and not be satisfied with the surface approach to life. Msgr. Canavan also talked about the vision of God in the Kingdom of God. Following the words of Christ Himself, Who said that His "Kingdom is not from this world" (cf. John 18:36), the retreat master stated that the Reign of God is "the range of God's effective will." Thus, whenever our will, which the Lord gave us freely without desiring it back, conforms to the Lord's will, we are effectively spreading His Kingdom on earth, having all the necessary means for it (cf. 2 Peter 1:4). We, Christians, have been given a gift to be called children of God, Who calls us, Who always wants to be with us, Who looks for us, and Who leads us, for the Lord does not choose the qualified, but He qualifies the chosen.
Msgr. Canavan likewise touched on the question of God's love for us, namely a need for every Christian to recognize God's love in our life – love that found its culmination in Christ's cross and ultimately His resurrection. "Christ's victory on the cross," stated the retreat master, "forever becomes our own." Msgr. Canavan equally underlined that we are healed by Christ's still open wounds. Moreover, knowing that Christ is ever present with us means that we are not powerless, but are living from another world in this world, for, as the Lord says through the Psalmist, "Be still, and know that I am God!" (Psalm 46:10).
The retreat participants also took part in the celebrations of the Divine Liturgy and other liturgical services as well as had an opportunity for confession and spiritual talks with the retreat master.
At the end of the spiritual exercises, Bishop Bohdan thanked Msgr. Canavan on behalf of the entire clergy for having shared his word of wisdom with the retreat participants and wished him Lord's choicest blessings in his priestly ministry.
Department of Information of the UGCC
MEDIA