The Eparchy of St. Josaphat in Parma (USA) Held an Annual Retreat for Its Clergy
Friday, 12 October 2018, 12:36
The clergy of the Ukrainian Catholic Eparchy of St. Josaphat in Parma held their annual retreat on October 9-12, 2018 at the Loyola Retreat House in Clinton, Ohio (USA).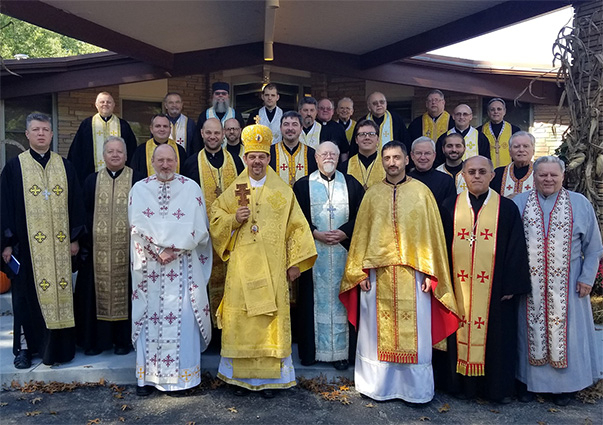 The retreat was led this year by Very Rev. Richard Janowicz, Protosyncellus of the Ukrainian Catholic Eparchy of St. Nicholas in Chicago and the pastor of the Nativity of the Mother of God Ukrainian Catholic Church in Springfield, Oregon. After Bishop Bohdan Danylo, Eparch St. Josaphat Eparchy, introduced Fr. Janowicz to the retreatants, the retreat master commenced his first spiritual conference, having begun by sharing his biography with the retreatants with a particular emphasis on his pastoral experience as a priest. He continued on by talking about the Christian meaning of death. "Death, said Fr. Richard, is not the most cheerful thing to talk about" in today's day and age, as people will go at great lengths to escape its reality. As an example, the retreat master presented some statistics about the funeral arrangements people make nowadays for their loved ones in one locality in the State of Oregon – the data that shows that hardly anyone is willing to make proper and dignified funeral arrangements for their family members anymore that is an indication of how people perceive death. Oftentimes funerals here in the United States are turned into comedy shows as if the deceased person's life was a joke. Moreover, one of the most popular trends today is eating healthy and while there is nothing wrong with eating healthy, oftentimes paying excessive attention to diets and hence attempting to extend one's own earthly life could serve as an indication of people's unwillingness to face death in a true way. Furthermore, despite that nowadays people see a lot of death on various TV shows which seems that it would make them stop and think about this inevitable reality, yet the contrary is true: hardly anyone thinks about death.
So, a question arises: how are we, Christians, to perceive death in an authentic manner and why do we have to keep it in mind? The truth is that the more we think about death, the closer it draws us to the cross of Jesus, the more we understand life. Focusing on one's own death can shed light on the quality of person's life. In the Church's Resurrection troparion we sing: "Christ is risen from the dead, conquering death by death, and to those in the tombs He granted life." In this short verse, death is mentioned and referenced four times and life once, hence, death must be an important reality to think about. Christ died and so will we, but the Lord gave a new meaning to death. Fr. Richard continued on by stating that in the celebration of the Divine Liturgy we deal with the realities of life and death. Moreover, as St. Augustine writes in one of his exhortations, we are trespassing through the earthly life on the way to the life eternal. The retreat master ended his first conference by saying that we need to beg for the life of Christ in all aspects of our life, and so, "may the Lord hear us and grant us His life," concluded the presbyter.
During the second conference, Fr. Richard placed an emphasis on the awesomeness of God and the created by Him universe. It seems that a modern man, with all of the technological advancement, loses more and more a sense of awe of God and everything the Lord fashioned. Hence, it is so important to be able to be mesmerized by the Lord and the created by Him world. Yet, one of the most important things that all of us are called to is to admire the goodness and the love of God for us, to direct our eyes and ears to Heaven, immersing ourselves thereby in the awesomeness of God. It has to be even more so with the priests. The realization of the awesomeness of God could stem, for instance, from the celebration of the Divine Liturgy that, if properly celebrated, could connect our hearts and minds to this awesome God, Who loves us and wants to envelop us with His immense goodness.
The retreat master centered his third conference on the virtue of patience. He began by citing St. Cyprian of Carthage on patience, who among other things wrote that "patience endures sufferings and martyrdoms to the end." Fr. Richard also quoted St. Augustine, who stated that "patient people make their burden lighter by virtue." The retreat master went on by asking a question: "whose life am I living?" A Christian is living not only his life but also God's life and patience what is needed to lead this authentic Christian life. While impatience is oftentimes a sign of self-centeredness and egotism, patience, on the contrary is a sign of love and generosity. Fr. Richard went on by saying that a genuine Christian uses his time in the best way possible and one day the Lord God will replace this time used well with eternity. We all need to learn to deal with life's challenges patiently and prayer is a great means in this regard. The presbyter concluded his third conference by stating that it is the Lord, Who is patient with us and not the other way around.
During his fourth conference, Fr. Richard talked about attraction and distraction, sin and virtue as well as about spiritual hoarding. We live in an age of so many distractions in our lives and what is usually happening is that we fall prey to these distractions because we pay attention to what we want, what we desire. Yet, how about being distracted by the words of the Gospel, by the Holy Eucharist, by holy things? We would only benefit from giving our minds, our attention completely to Christ. In terms of sin and virtue, the retreat master commenced by reference to St. Paul's exhortations on Christian life. Fr. Richard went on by saying that it seems that it is easier to sin than to grow in virtue. Yet, we are called to holiness. "Virtue does not harm us like sin does," stated the presbyter. In fact, virtue is attractive. A good spiritual practice for authentic Christian life is growing in holiness one virtue at a time. The truth is that working on not sinning does not necessarily mean growing in virtue, for one simply avoids sin. However, actively practicing virtue does make one's life truly human, authentically Christian. Finally, in terms of spiritual hoarding, Fr. Richard accentuated on the need to get rid of the "junk" in our lives that prevents us from growing in holiness. Some people like to hoard things in their homes; they just can't throw them away. Psychologists explain that these people feel protected by collecting all of this junk. However, the truth is that hoarding damages or destroys their relationships in life even though they might not fully realize it or simply deny it. Similarly, in the spiritual life. By hoarding sinful habits, for instance, one does not grow in virtue but in sin, damaging thereby his relationship with Christ and neighbors. The retreat master concluded the conference by stating that "our life should be based on freedom in Christ and not on sinful behavior."
The retreat master centered his fifth conference on not being judgmental but rather on being generous to one another. He began by talking about Jesus curing the blind people. Blind people experience the world in a different way than people with sight. Fr. Richard continued on by saying that no one can fully understand another person even if that person is the closest person to him, hence, we can only understand other people to a certain degree. While we constantly judge others one way or another, our judgements ought to be accurate, compassionate, non-condemning, etc. We need to be patient with one another. We also need to ask ourselves a question: how patient is the Lord God with me? Do I want to be judged by others? During the course of the conference, the retreat master referred to Bishop Benedict Aleksiychuk of the Ukrainian Catholic Eparchy of St. Nicholas in Chicago, who stated that people oftentimes are preoccupied with what others think about them and not with what God thinks of them. According to Bishop Benedict, we should be concerned of what the Lord and not others think about us. Fr. Richard also mentioned humility as a virtue of knowing who you are in the Lord's eyes. He also mentioned St. John Chrysostom's discourse on priesthood in which the Church Father talks about the dangers of the temptations of a priest that should be avoided. The retreat master concluded the conference by saying that the priests should be as generous to one another as possible and that "people need to see that we are priests of Jesus Christ."
The sixth and final conference of the retreat revolved around the topic of habits. Everyone has good and bad habits. Everyone, especially the priests, need to try to get rid of their bad habits that direct their actions and thoughts and replace them with the good ones. In this endeavor, we need to ask the Lord to show us our bad habits, so that we could change them with the help of His grace.
The retreat participants also took part in the celebrations of the Divine Liturgy and other liturgical services both in English and Ukrainian as well as had an opportunity for confession and spiritual talks with the retreat master.
At the end of the spiritual exercises, Fr. Richard thanked Bishop Bohdan and all the priests for their kindness and hospitality shown to him during the retreat and wished everyone Lord's abundant blessings in his ministry. Bishop Bohdan, in his turn, thanked Fr. Richard on behalf of the entire clergy for having shared his word of wisdom with the retreat participants and wished him God's choicest blessings in his priestly service.
Department of Information of the UGCC
PUBLICATIONS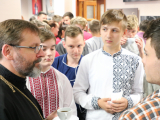 Today, more than ever, is the time for your boldest dreams: to tame the universe, to find a cure for cancer, to conquer epidemics, to build a just...
MEDIA