The Eparchy of St. Josaphat in Parma (USA) held an Eparchial Convention on Evangelization and Mission
Tuesday, 19 June 2018, 11:52
Over 120 delegates from the Ukrainian Catholic Eparchy of St. Josaphat in Parma and beyond gathered together on June 9, 2018 at the Pokrova Ukrainian Catholic Church in Parma, Ohio (USA) for an eparchial convention.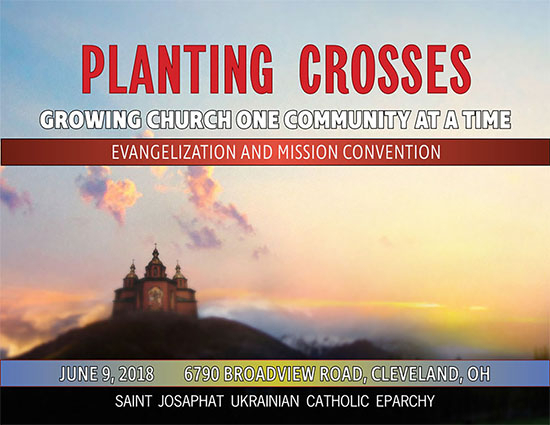 The theme of this year's event was "Planting Crosses: Growing One Church Community at a Time."
The convention, presided over by Bishop Bohdan Danylo, Eparch of the Ukrainian Catholic Eparchy of St. Josaphat in Parma, focused on parish renewal and how to establish new missions in regions of the eparchy where our Church is not yet established. The speakers this year included Fr. Mark Shuey, administrator of St. Nicholas Ukrainian Catholic Mission in Raleigh, NC, who has been pivotal in establishing new missions in St. Josaphat Eparchy; Fr. Alex Wroblicky, a priest of the Ukrainian Catholic Eparchy of St. Josaphat in Parma from Pittsburgh, PA; Fr. Jason Charron, pastor of Holy Trinity Ukrainian Catholic Church in Carnegie, PA and of Our Lady of Perpetual Help Ukrainian Catholic Church in Wheeling, WV; and Fr. Joseph Matlak, administrator of St. Basil Ukrainian Catholic Mission in Charlotte, NC, who is currently also trying to establish new missions in the State of South Carolina. The convention also included a panel of delegates from various parishes and missions in the eparchy, who were able to share with the participants their unique experiences of being members of the Ukrainian Catholic Church, which was met with attentiveness, appreciation, and enthusiasm.
Bishop Bohdan, commenting on the purpose of the gathering, said: "Jesus Christ commanded His Church to "go […] and make disciples of all the nations, baptizing them in the name of the Father and of the Son and of the Holy Spirit" (Matthew 28:19). In response, St. Andrew the First-Called planted a cross on the hills of Ukraine's capital, Kyiv, and prophesied that the church he envisioned would go out into the whole world. Therefore, we, as the heirs to the Church founded by Apostle Andrew, are responding to this vision and planting new crosses here in the United States."
Over the last decade, St. Josaphat Eparchy has grown, both in members and in the establishment of new mission-parishes. Missionary priests, deacons and lay faithful have gone out into the vast eparchy and established eleven new mission-parishes in North Carolina, Tennessee, South Carolina, Georgia, and Florida. And a new outreach has recently been started in Pennsylvania as well. There is a desire present in the eparchy to continue to grow – a true call to worship.
Bishop Bohdan likewise stated: "In order to grow, our parishes need to learn how to move from maintenance to mission by nurturing a culture that is missionary, forming the faithful, and welcoming others to join us. Likewise, one of the big questions that we face is: how do we support the growth of our eparchy in supporting the clergy and people in establishment of these new mission parishes where our Church is called to plant new crosses? This is why in preparation for the convention, I asked our parishes and missions to hold meetings February through April 2018 to pray, meditate, and to select two or three delegates including a youth representative to be a voice for their parish at the convention."
The delegates, during their discussions, were reflecting, among others, on the following questions: how can our parishes grow from maintenance to mission? What can we do to help support the growth of missions? How can we best provide ongoing formation for our faithful that inspires them to reach out beyond their comfort zones and evangelize others? "All of these challenges lie ahead of us," stated Bishop Bohdan, "yet we know that with the Lord's help and the zeal of our people that I saw visiting our parishes and missions we can go forth and spread the "Good News" of our Lord and Savior Jesus Christ to every corner of our vast eparchy and beyond," concluded the hierarch.
Department of Information of the UGCC
PUBLICATIONS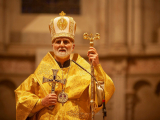 The shock of the wanton violence and massacres calls us to conversion. The gun culture, violence on screens, and personal morality, in...
MEDIA