The Eparchy of St. Josaphat in Parma (USA) held its annual Fall Youth Retreat
Tuesday, 13 October 2015, 11:35
Over 50 youth, young adult leaders, volunteers and clergy from the Ukrainian Catholic Eparchy of St. Josaphat in Parma and beyond gathered together on October 10-11 at the "Trinity Acres" in Collier Township, Pennsylvania for the annual Fall Youth Retreat.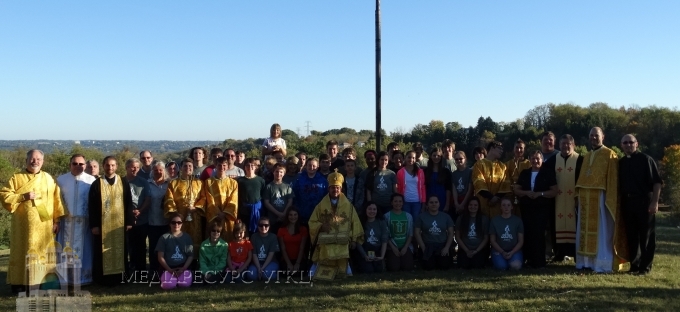 The theme of this year's retreat was "Prepare the Way of the Lord." The retreat's participants welcomed with warm hearts a special guest in their midst – Bishop Bohdan Danylo, Eparch of the Ukrainian Catholic Eparchy of St. Josaphat in Parma, who was able to be with them both Saturday and Sunday and who presided over the Pontifical Divine Liturgy at the conclusion of the retreat.
The retreat, organized by the Eparchial Youth Committee under the leadership of Fr. Lubomyr Zhybak, the committee's co-director and pastor of Holy Trinity Ukrainian Catholic Church in Youngstown, OH and St. Anne's Ukrainian Catholic Church in Austintown, OH and Mrs. Lisa Hladio, the head of the subcommittee on the Fall Youth Retreat, provided an opportunity for the youth to encounter the living Christ through prayer, learning and playing in the spirit of the Ukrainian Catholic faith and fellowship.
At "Trinity Acres" – 40 wooded acres area that is a property of Holy Trinity Ukrainian Catholic Church in Carnegie, PA, where the pastor is Father Jason Charron – the eparchial teens enjoyed an edifying and lively session on vocations as well as learning to sing a Hierarchical Divine Liturgy. They also completed some team-building challenge initiatives such as the Spider's Web and Slack Lining. The youth likewise played many large group games in the autumn outdoors and enjoyed Ukrainian pyrohy as well as some other delicious home-cooked fall meals. Moreover, the young people had an interesting evening Questions & Answers session attended by a couple of local priests. There was an opportunity for individual confessions in the sunshine and everyone was able to pray before the outdoor cross and sing around the campfire. The majestic retreat ended gloriously with a beautifully sung by the young people Sunday outdoor Hierarchical Divine Liturgy, presided over by Bishop Bohdan Danylo with the youth, volunteers, their families and many of the eparchial clergy present.
This year's Fall Youth Retreat was a wonderful spiritual, prayerful and fraternal event for the eparchial youth. The next retreat is planned for 8-9 October 2016.
Department of Information of the UGCC
PUBLICATIONS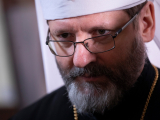 Christ is Risen! Dear Brothers and Sisters in Christ!
MEDIA