The Head of the UGCC and the leader of the parliamentary faction of "Samopomich" ("Self Reliance") discussed the amendments to the Constitution of Ukraine
Friday, 02 October 2015, 10:35
On 1 October, 2015 at His residence near the Patriarchal Cathedral in Kyiv, His Beatitude Sviatoslav, the Head of the UGCC, met with Oleg Berezyuk, the people's deputy of Ukraine, leader of the parliamentary faction "Samopomich" ("Self Reliance").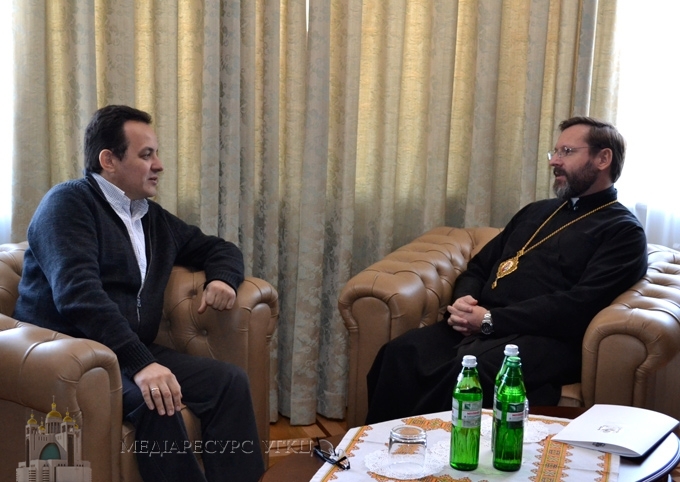 During the meeting the parties discussed the progress of the elaboration and adoption of amendments to the Constitution of Ukraine. Oleg Berezyuk presented to His Beatitude Sviatoslav the position of his faction and expressed his anxiety of the process, which takes place without a proper discussion among experts and citizens.
The Head of the UGCC explained that we, as a church, do not interfere in the affairs of state building and state system. "The question of decentralization we can interpret only as citizens of our country and require all participants in this process to be governed exclusively by state interests in decision-making, not a party expediency or other unworthy motives".
Regarding the constitutional changes that are designed to improve the judicial system and the judicial system in Ukraine, the Church fully supports initiatives aimed at achieving true independence of the judiciary, transferring it to the true justice, which is impossible without morality of judiciary body, stated His Beatitude Sviatoslav.
As for the proposals to amend Section II of the Constitution of Ukraine, the parties spoke about the inadmissibility to amend this section without extensive discussion, without taking into account culture and traditions of Ukrainian people. "We have to add that fundamental thesis that human law that is not in accordance with the Law of God - this is lawlessness", - said the Head of the UGCC.
At the meeting, both parties expressed the need for closer ongoing dialogue with the public authorities, as discussed during the national forum "The transformation of Ukraine", which took place on 22 September in Kyiv.
UGCC Department of Information
PUBLICATIONS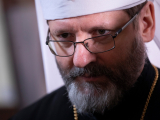 Christ is Risen! Dear Brothers and Sisters in Christ!
MEDIA