The Head of the UGCC at the end of the Synod: "To be a non-practicing Christian is extremely dangerous"
Monday, 07 September 2015, 13:10
The Synod of Bishops of the UGCC which had lasted since the 30th of August in Ivano-Frankivsk was finished with a festive Divine Liturgy, headed by the Father and Head of the Ukrainian Greek-Catholic Church, His Beatitude Sviatoslav at Holy Resurrection Cathedral.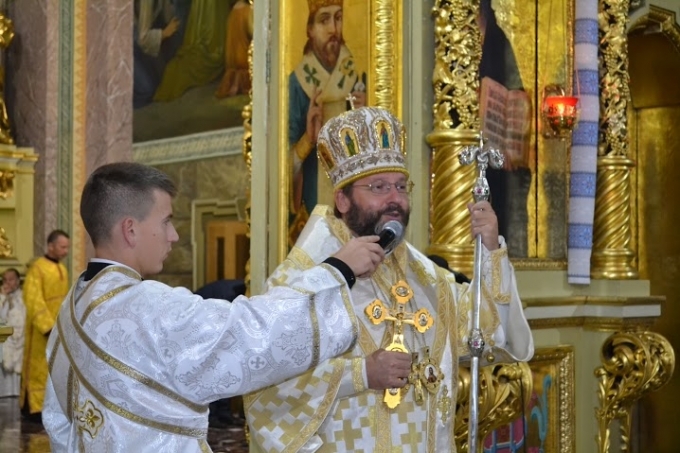 "With this Liturgy, - said to the faithful His Beatitude, - we are finishing the Synod of Bishops of our Church. This conclusion seems to crown the act of VI meeting of a Patriarchal Council as well. Everyone, who was working upon it, preparing a meeting, decisions and different texts, felt themselves to be the servants who were preparing a feast, a wedding… And today, when everything has been finished, we say the whole Church, - everything is ready. Good thoughts, good intentions and good plans are ready. Today we say all of you that you are invited. However, heading to a different countries all over the world we feel ourselves as we are servants, sent by God to make every invited a chosen one, and to lead them up for a participation in eternal joy of a Heavenly Father".
In his homily the Head of the Church told about prophets of the Old Testament who were cherishing and begetting in people the expectation of Messiah, that long-awaited moment when Messiah was coming, the sign of accomplishing all God's vows, described by prophets like Messiah's feast.
A feast, up to a preacher's words, is not only a moment when people fill their stomachs in a synchronic way. The feast, particularly in the context of Holy Bible is a moment of exchanging gifts. When a host invites guests to his banquet he is sharing not only what he has prepared; he is sharing, giving himself out, namely, his life, his joy. That is why in other books of Holy Bible we see, when he is consuming food together with a sinner, he consumes his sin as well. And when someone accepts an invitation to visit a saint, he is thought to become a consumer of his holiness, his nobility… But the highest and the strongest banquet is a wedding because it is moment when two become one. In other words, the prophets chose wedding as the best epitome to say people that it will be a sign when a long-expected King of Israel will come. "Specifically about this good news from Gospel, accomplishment of the expectation, we hear in today's Gospel reading. In this brief story the words "everything is ready, come to the feast" we hear three times.
Telling about a joy of completeness, today we hear in Gospel about different kinds and ways to refuse… We hear that King wants people to be the consumers of His joy, the participants of wedding of Lamb of God. For all are invited, called to be happy with God in His Kingdom. Together righteous and sinful, rich and poor, wise and ignorant… God wants all people to be saved and come to face the truth", - says the leader of Greek-Catholics.
That moment, when we, living today are called for being the guests of wedding is called a Divine Liturgy, kingdom, wedding where God has gathered us in this holy temple, - thinks he. "But we have different ways to refuse… Let's pay our attention to one of those refusals. One man came to a wedding, who didn't have a wedding garment. And when the king came to observe who had come to him, the first who he saw was that man. Let's call him a non-practicing guest. We don't speak about clothes but about inner directives. Someone had refused and closed himself in his own place; someone had refused and just didn't come. And this man refused and came. He came, but for being present only, without participating in a banquet. He came to be present, so that he might offend, neglect love, favour and generosity of one, whose home he is staying in. We can say that all of us are invited, but chosen ones we become that very moment when we respond to God's invitation. When we become practicing guests, when we accept everything what our Heavenly Father at this feast of His only Son's marriage with a Church wants to give us", - said His Beatitude Sviatoslav.
"You must not be a non-practicing Christian, - thinks the Head of the Church. – It is extremely dangerous. The one, who doesn't want to accept an invitation from Church, has a big trouble to be thrown away from the Kingdom of Heaven. The one, who neglects the invitation that he has heard here on earth will stay outside the Heaven's door and eternal life. It is impossible to be a member of a parish without participating in its life. It is impossible to be a believer without sharing a belief with others, without leading others to see God, to the sacrament of Baptism. It is impossible to be a Christian without serving others. It is impossible to receive a wedding garment beyond the sacraments of Church community", His Beatitude Sviatoslav asked to muse.
He reported that the next year our Church would participate in a Year of God's Mercy, proclaimed by Pope Francis. "Our confessors will be serving out and renewing this wedding garment indefatigably to everyone who will repent of his sins", - said a preacher.
The day before ending the Synod, bishops commemorated the souls of reposed bishops, especially praying for bishop Sofron (Mudryj) who passed this year to the eternity.
At the penultimate day of the Synod His Beatitude Lyubomyr (Gusar), Archbishop Emeritus visited the members of the Synod and presented bishops a book of his authorship "Andrej Sheptycky, Metropolitan of Halych (1901-1944). A Pioneer of Ecumenism" that just has been edited.
On Saturday's evening after the last Synod's meeting bishops moved in a procession with a candle and Gospel back to the chapel and put signed all resolutions of the Synod.
At the end, the Head of the Church thanked bishop Volodymyr (Viytyshyn), the Metropolitan of Ivano-Frankivsk for the VI meeting of a Patriarchal Council and Synod of Bishops.
The UGCC Department of Information
PUBLICATIONS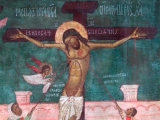 "Open to me the doors of repentance, O Giver of Life. As we worship in Your temple this morning, teach us how to purify the temple of our...
MEDIA