The Head of the UGCC began an official visit to Poland
Wednesday, 14 March 2018, 19:36
At the invitation of the Conference of the Episcopate of Poland and the Catholic Information Agency on March 14, 2018, His Beatitude Sviatoslav, the Head of the UGCC arrived in Poland on an official visit.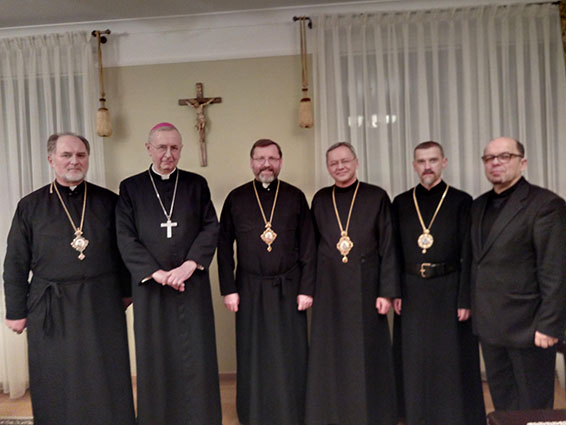 In the program of the visit of the Primate of the UGCC there are meetings with the hierarchs of the Roman Catholic Church, representatives of the authorities, journalists of leading church and secular periodicals and television. One of the main points of the stay of the Head of the UGCC in Poland will be the presentation of his book-interview Dialogue Heals Wounds, which was published in Polish in the publishing house Znak in cooperation with the Catholic Information Agency. The presentation will be held in Warsaw and Krakow.
On the first day of his visit, His Beatitude Sviatoslav met with Bishop Stanislav Gondetsky, Archbishop and Metropolitan Poznansky, who is also the Chairman of the Conference of the Polish Episcopate. Bishop Yevgeny (Popovich), Archbishop and Metropolitan of Przemysl-Warsaw, Archbishop Volodymyr (Yuschak), Eparch of Wroclaw-Gdansk, and Bishop Theodore (Martyniuk), Auxiliary Bishop of Ternopil-Zboriv Archeparchy also took part in the conversation.
The Head of the UGCC discussed with the Chairman of the Conference of the Episcopate of Poland the situation regarding the faithful of the UGCC, who came to Poland to work, as well as ways of cooperation and reconciliation between the Ukrainian and Polish peoples. His Beatitude Sviatoslav thanked Metropolitan Stanislav for the assistance of Polish bishops to allow our priests to serve Divine Liturgies for our believers in the Polish churches.
Consequently, the Head of the Conference of the Episcopate of Poland expressed his gratitude to the Head of the UGCC for his efforts in the Polish-Ukrainian reconciliation.
Department of Information of the UGCC
MEDIA