The Head of the UGCC blessed the Chornobyl Icon of Our Lady
Tuesday, 06 December 2016, 11:33
On Sunday, December 4, at the Patriarchal Cathedral of the Resurrection of Christ, the Father and Head of the Ukrainian Greek Catholic Church His Beatitude Sviatoslav blessed the Chornobyl Icon of Our Lady upon the request of the veterans of Afghanistan and Chornobyl.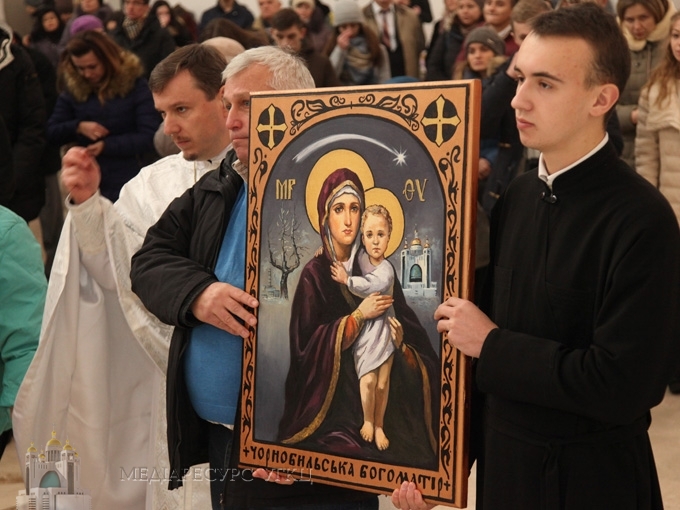 During the consecration of the Icon His Beatitude Sviatoslav remarked that this year had been proclaimed the Year of special memory and prayer for the liquidators of this awful tragedy. "Today we would like to bless the Chornobyl Icon of Our Lady, which was painted and brought to our temple, with the request of blessing, thanks to the commission of our heroes-liquidators," said the Head of the UGCC.
According to his words, it's very symbolic that just on the Feast of the Entrance into the Temple of Our Most Holy Lady the liquidators will receive their Intercessor and Someone who is praying for them.  "Since, as you have written in your letter to me, then, in Chornobyl, you felt that it was Our Lady Who protected you. The fact that you are alive today and are with us, is the fruit of Her Motherly Intercession," said the Primate of the Church to the liquidators of the Chornobyl disaster.
The well-known artists of Ukraine were commissioned to create the Icon of the Chornobyl Mother of God by  the Chornobyl liquidators from Lviv and Transcarpathia regions on the donations of their members.
The initiators wished to give the Icon to the Church as a gift so that it could help people in their healing.
As is known, 2016 marks 30 years since an awful ecological tragedy shocked the whole world - the catastrophic accident at the Chornobyl nuclear power plant (April 26, 1986).  According to the decree of the President, the year 2016 is proclaimed the Year of the   liquidators of consequences of the Chornobyl nuclear disaster.
The UGCC Department of Information
PUBLICATIONS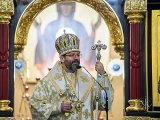 Head of the Ukrainian Greek Catholic Church brings multifaceted experience to project of evangelization.
MEDIA