The Head of the UGCC gave the reward of a Holy martyr Omelyan Kovch
Thursday, 29 October 2015, 15:17
In the Pedagogical Museum Building, the Head and Father of the Ukrainian Greek-Catholic Church His Beatitude Sviatoslav gave philanthropists and volunteers for their personal sacrifice and humanism a Reward of a Holy martyr Omelyan Kovch.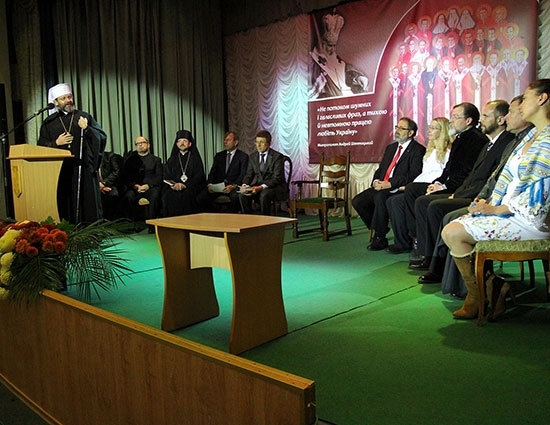 Holy martyr Omelyan Kovch was a follower of Metropolitan Andrey's ideas and a reflection of ideal clergyman, what was much cherished by a great Metropolitan.
The Head of the UGCC in his greeting mentioned that a Holy martyr Omelyan Kovch was a good priest of his bishop – Metropolitan Andrey. "He was the embodiment of Metropolitan Andrey's wisdom and spirit. There is an incredible touch of eternity in Omelyan Kovch's words, written from the concentration camp. From the nether world on earth, he writes: "Here I see God…" We know, today spiritual succession has not been broken, and today there are also people who are full of spirit and wisdom of Metropolitan Andrey, who we can consider the followers of everything we honor in Omelyan Kovch's figure. These are people who in our present times, among our nether world here, on earth, even during the war can touch the eternity, and who are led with God's wisdom", - said His Beatitude Sviatoslav.
According to him, each of laureates of this year, similarly to Metropolitan Andrey treat their neighbours right, breaking different humans' restrictions: religious and national.
The reward of Holy martyr Omelyan Kovch has been given the fifth time.
Laureates of this year became:
Krzysztof Stanowski (Poland) – philanthropist, the chairman of International Solidarity Fund, one of the most active developer of the humanities help from Poland to Ukrainian soldiers and those who were wounded on Maidan.
Ulyana and Marko Suprun (Canada-Ukraine) – philanthropists, directors of the project "Patriots' Guard", owing to which the cadets of military colleges and hundred of thousands Ukrainian soldiers passed a training on medical aid on a battleground and got their personal first-aid kit.
"Friends of Ukraine in Israel" (Israel) – a charitable organization which granted an enormous help to Ukrainian soldiers, wounded men, orphan houses and refugees; organized a probation time for Ukrainian surgeons in Israel's hospitals.
Father Vasyl Ivanyuk (Ukraine) – dean of Kramatorsk's deanery of the UGCC, converts people on East to Christianity and Ukrainian values; provides help for Ukrainian soldiers, refugees and disabled children.
Clavdia Polishchuk (Ukraine) – philanthropist, who gave wounded soldiers all her incomes – money that was paid her by German Government as indemnity for crimes, committed by Nazi.
The Head of the Church congratulated all laureates with this reward. "You will get a reward during a jubilee year, - mentioned His Beatitude Sviatoslav. – This year inspires specially, because it is not an easy year. But we say each to other: "Let God's wisdom guides us".
The UGCC Department of Information
PUBLICATIONS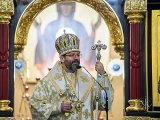 Head of the Ukrainian Greek Catholic Church brings multifaceted experience to project of evangelization.
MEDIA