The Head of the UGCC has asked bankers to be understanding of the needs of the poorest members of the population
Friday, 17 April 2009, 00:38
«The financial crisis is the result of a spiritual crisis. And bank workers are the first who feel on themselves not only financial pressures but also a great spiritual burden,» said His Beatitude Lubomyr, Head of the UGCC, to bank workers gathered in his residence outside the city. As a proof, the Head of the UGCC called to mind cases of suicide which some workers of banks in Lviv committed and a tragic case in Kirovohrad. Considering this, His Beatitude Lubomyr explained the first reason for initiating the meeting with the bankers. He said: «We want to hear suggestions from you on how the Church can help you, certainly not in material but in spiritual ways. We want you worthily, not losing spiritual achievements, to exit the financial crisis.»
«The financial crisis is the result of a spiritual crisis. And bank workers are the first who feel on themselves not only financial pressures but also a great spiritual burden,» said His Beatitude Lubomyr, Head of the UGCC, to bank workers gathered in his residence outside the city. As a proof, the Head of the UGCC called to mind cases of suicide which some workers of banks in Lviv committed and a tragic case in Kirovohrad. Considering this, His Beatitude Lubomyr explained the first reason for initiating the meeting with the bankers. He said: «We want to hear suggestions from you on how the Church can help you, certainly not in material but in spiritual ways. We want you worthily, not losing spiritual achievements, to exit the financial crisis.» Another question which the Head of the UGCC wanted to discuss with the guests related to the depositors of banks. «The Church serves all: both those who execute important functions in society and those who carry out ordinary duties. It may happen that from the height of his own position a man does not notice the difficulties and necessities of those who are below. I very much wanted to ask you to pay attention to those in need, who are the first victims who feel the most pain from this financial situation,» the Head of the UGCC said. Then the invited guests had the opportunity to express their vision of the cooperation of the Church and banks. In particular Mrs. Tamara Smovzhenko, rector of the University of Banking of the National Bank of Ukraine, suggested introducing throughout Ukraine the day of the bank worker, the feast of savings
(see addition)
. Such a holiday has been annually observed in Halychyna since 1927. Approvingly accepting such a suggestion, His Beatitude Lubomyr explained that the Day of Savings is celebrated not one day but during a period which lasts a few weeks. «Its purpose is to teach people how to save possible means and create their own economic strength,» said the Head of the UGCC. Another possibility in which the Church and bankers can co-operate is popularization of bank activity; in fact, as the interlocutors noted, society has to see in the bank service something noble. It is necessary with honesty and transparency in activity to overcome the widespread opinion that injustice is done in banks. «The bank service creates the possibility for people to live in obedience to their vocation and tasks,» the speakers noted. An important result of the conducted meeting was the comprehension that the crisis which is presently being experienced by the world will pass necessarily, as before this other difficult pages of the history of humanity began and closed. It is necessary to keep calm, to entrust problems to the Lord God, and with faith, love and hope to overcome them. In addition, in a crisis situation, according to the Head of the UGCC, it is possible to learn something good, to exit it better than before.
Information Department of the UGCC
Information lviv.proua.com
In the 1920s and '30s there were many banking institutions in the areas of Halychyna. To encourage people to put their money in Ukrainian savings institutions, and also co-operative and jointly-owned banks, for their subsequent use to build up Ukrainian cooperatives, and Ukrainian trade and agriculture, in the cities and villages of eastern Halychyna beginning in 1927 holidays of savings were annually conducted. Their purpose also was to distinguish the best bank workers and public-society figures participating in the development of banking, and also to accumulate the saved money of the population for the development of the Ukrainian national producer in the difficult conditions of foreign enslavement. These days became mass holidays and a stimulus for the subsequent development of both separate participants and societies, associations, and institutions. Before the conduct of these holidays, the Thriftiness Society [Oshchadnist], which was created in Lviv in 1926, turned to Ukrainians with patriotic appeals, calling them to be conscious owners, to unite in the general business of revival of the Ukrainian state system.
PUBLICATIONS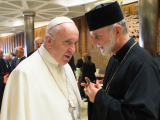 An unprecedented event took place in Rome on July 5-6. Desiring to demonstrate support for the Ukrainian Greek-Catholic Church at a time of...
MEDIA