The Head of the UGCC has ordained a new priest in Rome
Wednesday, 30 April 2014, 14:58
On April 26 in one of central Rome's basilicas His Beatitude Sviatoslav (Shevchuk) accomplished the priest ordination. Newly appointed priest Andriy Vahryshev is a doctoral student at the Pontifical University "Urbaniana" and belongs to the clergy of the Community of Sant'Egidio.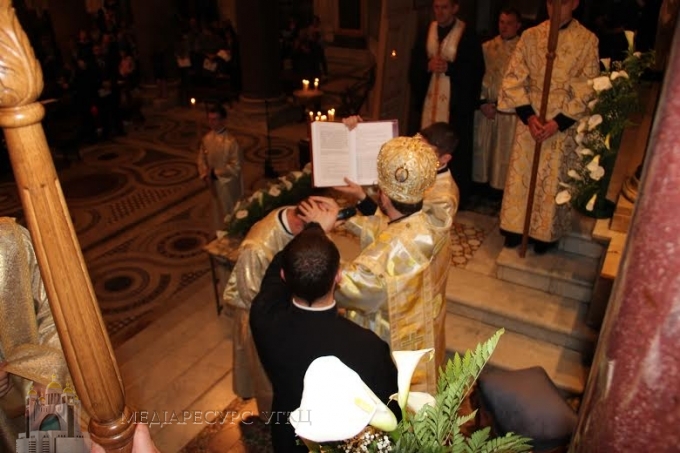 Together with the Head of the UGCC Archbishop Vincenzo Paglia, the confessor of Sant'Egidio Community, and Archbishop Ambrogio Spreafiko, the Bishop of Frosinone coserved the Divine Liturgy. At the Divine Service was also present Andrea Riccardi, the founder of the community.
"Today the new pastor is born for the Church, which aims to bring the bloodless sacrifice, and sacrifice his life for his entrusted flock" – His Beatitude Sviatoslav said in his homily during the Service. He also wished Fr.Andriy kind pastoral ministry and work to build peace in the world and in Ukraine in particular. We need to add that the Community of Sant'Egidio is an international laity organization whose mission is to promote the construction of ecumenical dialogue between religions, peace and solidarity throughout the world.
Press service of "Saint Sophia" Association
MEDIA