The Head of the UGCC in Kramatorsk: "UGCC parishes in Eastern Ukraine are precious pearls in the crown of Catholic Church"
Saturday, 15 July 2017, 11:02
God's word, which we have just heard, speaks about the Heavenly Kingdom, which is a treasure, i.e. something most precious of all that a person can obtain in his earthly life. Heavenly Kingdom - is the presence of the Living God among us, on Whom depends our present and our future. Christ says that this is the reality which is here already and there's no need to wait for it in the future. Heavenly Kingdom is among us already, however we must find it. And a man, who finds this treasure, understands, that everything he possessed before, is worth nothing comparing with that pearl which the Heavenly Kingdom is.
This was emphasized by the Father and Head of the UGCC His Beatitude Sviatoslav during the Hierarchical Divine Liturgy on July 14 in the church of St Prophet Elias in Kramatorsk. In the Liturgy also participated: Cardinal Leonardo Sandri, Prefect of the Congregation for Oriental Churches, Archbishop Claudio Gugerotti, Bishop Stepan, exarch of Donetsk, clergy and faithful.
"Everything is falling down! The world, in which we are living, is being ruined. Powers and ideologies are changing... Everyone thinks what to do and what is the most precious of what we have. Many people, perhaps, because of unbelievable sufferings, caused by this war, understood that the biggest treasure for us is God. How many people, who came to this church looking for refuge, found here not only humanitarian aid, but also the treasure of Heavenly Kingdom present among us," went on the preacher.
The Head of the UGCC recalled that previous time when he was with a pastoral visit in this parish, he was asked why there is a war in Ukraine. He was asked where God is when we are being killed. "We can find an answer in today's God's Word. The Lord our God does not simply hear us and is with us. He is present in everyone who is wounded, resettled or needy. He is present in everyone who suffers. We are never abandoned, and God, Who, having embodied, became a man, goes on suffering and rejoicing with people till the end of times. God is not simply solidary with us but He feels our pains and bears our sufferings. On our earthly way we must find Him. When we find Him, we understand that everything else in life - is worth nothing, comparing with the treasure which is for us the Heavenly Kingdom," explained the Primate.
His Beatitude Sviatoslav added that Cardinal Leonardo as a messenger of the Pope is present with the community this day in order to show love and support of the Holy Father Pope Francis for those who feel most abandoned and forgotten. "The presence of this guest demonstrates that the Lord and the Pope feel our pains, know our sorrows and are the voice of the afflicted ones in Ukraine before the high and mighty of this world. This visit – is a gesture of support and love of the Pope for the UGCC. His Eminence wanted to be with you, so he could touch upon Ukraine's wounds in this trip. Everything he saw he will pass on to the Holy Father. He will tell him that there is a Heavenly Kingdom, precious as a pearl, here in Kramatorsk. And the UGCC and, in particular, its parishes in the East, are precious pearls in the crown of the Catholic Church," he went on.
Then the Primate of the Church added that he together with the guest from Vatican on that day will have a chance to pray and talk with the priests, in particular with those, who "daily absorb in themselves human pains and trials." "I am grateful to you for your heroic pastoral ministry, that during the occupation, dealing with death threats every day, you didn't leave your people, but instead were good shepherds for them, ready to give away your life for your sheep," he summed up.
Bishop Stepan, thanking the Cardinal for his presence, expressed hope that after visiting the UGCC parishes in the East, the representative of Vatican will understand better their needs. "May the Lord keeps us all safe and through the Holy Father sends us not only material help but also His blessings," he addressed the Cardinal.
Cardinal Leonardo presented to Bishop Stepan a memorable medal of Jubilee Year of Mercy from the Pope. "I sincerely thank His Beatitude Sviatoslav that we could visit this city which was wounded by the trials of war. I will tell the Holy Father all the greetings, feelings and experiences of all the faithful. Your pearl - is your faith, which accompanies you. You must find yourself in the Church and always be with God, feel, despite all the hardships, God's hand which never abandons you throughout your life. I pass to you and assure you of the deepest feelings of love and respect on the part of Pope Francis, who is close to you and to your sorrows and sufferings," he addressed the clergy and faithful, and after that he gave everyone a Papal Blessing.
According to Fr. Vasyl Ivaniuk, eparch of the church of St Prophet Elias in Kramatorsk, Cardinal visited CF "Caritas -Kramatorsk" and the church, in order to see, talk and have a picture of the reality in the East. "Certainly, in one day we can't pass all the atmosphere that reigns here. However, we tried to explain to him that the Ukrainian nation – is a deeply faithful and patriotic one," commented the priest.
The UGCC Department for Information
PUBLICATIONS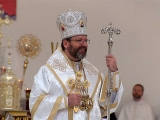 Can Easter be considered as a peculiar Christian holiday of victory and freedom of a human's will? Are we able through terrestrial examples...
MEDIA