The Head of the UGCC in Lviv accepted perpetual vows from three Basilian Sisters
Tuesday, 05 August 2014, 15:57
On August 5, 2014 the Father and the Head of the UGCC His Beatitude Sviatoslav led the Pontifical Divine Liturgy at the Provincial House of Sisters of the Order of St. Basil the Great, in Lviv. During the Divine Liturgy the Head of the Church accepted the perpetual vows from three nuns.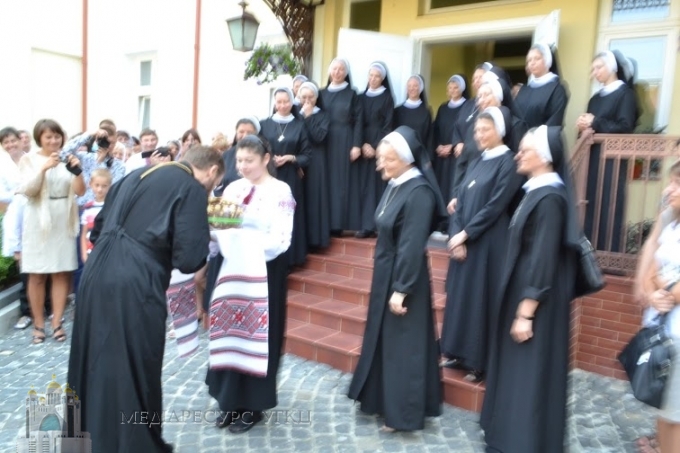 Addressing the audience during the sermon, the Head of the UGCC said that this day for all the UGCC was a great holiday similar to Easter. "We saw here today the image of death and resurrection. But, when sisters put their lives before the throne of God, they were covered by the burial shroud. But then they got out of it. So, we have seen that for those who believe God and give him all their life, there is no death", - said the Preacher. According to the Primate of the Church, these sisters preach the resurrection of our Church and nation.
As His Beatitude noted, since the Son of God became a man, then the heaven descended to the earth and the man came to the heaven. In His view, you can live the eternal life today, live in the resurrection, which is the essence of monastic life. "In the world many people think that spiritual matters are purely private and personal. But this is not entirely the case. A person – is a social, society being. It is in the shadow of the church community we can meet Christ and this that binds in the earth Church shall be bound in heaven", - he continued.
Addressing the nuns who took perpetual vows, the Head of the UGCC said that they having promised purity to God, obedience and poverty, did not rely on their own human potential: "God Himself has become a guarantee that you will fill promised, provided that you pray. For Christ is in you and prays with you, and He will give everything to your church and our nation".
UGCC Department of Information
MEDIA