The Head of the UGCC in the Vatican took part at the briefing for the diplomatic body on the situation in Ukraine
Saturday, 21 February 2015, 15:01
In Rome the Embassy of Ukraine to the Holy See, in collaboration with the Embassy of the United States, held a briefing on the situation in Ukraine. The event was attended by the ambassadors of the EU, US, Canada, Japan, Australia and Georgia as well as the members of the Synod of Bishops and the public.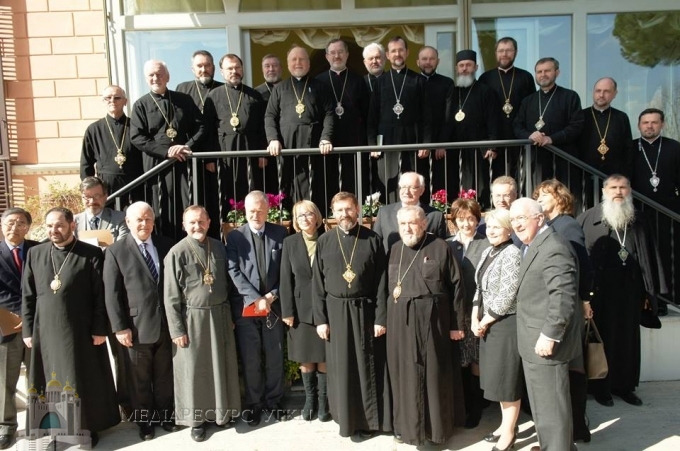 The Ambassador of Ukraine Tetyana Izhevska, introducing the key speaker of the event – the Head of the UGCC His Beatitude Sviatoslav, called the war on the Eastern Ukraine a total tragedy and noted the need to combat the propaganda that distorts facts and events in the conflict.The ambassador also urged other countries not to remain indifferent to events in Ukraine and continue influencing the aggressor to achieve a cease-fire and peace. In support of her words T.Izhevska gave the quote of the English poet John Donne, which became the epigraph of E.Hemingway's popular novel "For Whom the Bell Tolls?":
"No man is an island, intire of itself; every man is a peece of the Continent, a part of the main; if a Clod bee washed away by the Sea, Europe is the less, as well as if aPromontory were, as well as any manner of your friends or of thine own were; any man's death diminishes me, because I am involved in Mankind. And therefore never send to know for whom the bell tolls; It tolls for thee".
His Beatitude Sviatoslav spoke about the latest events in Donbas and the annexation of Crimea, the volume of assistance from the charitable Catholic organizations, including Caritas, meetings with Vatican institutions that take place during the visit "AD limina Apostolorum", about the events of the Revolution of dignity, about the interfaith dialogue and religious situation in Ukraine.
In particular, describing the events in Donbas, He noted that Ukraine is leading an uphill battle with an external aggressor and, in view of the existing problems of humanitarian disaster that "since the Second World War is the greatest in the history of Ukrainian people" need help of the entire civilized world. "The Ukrainian government is doing everything possible to save in a war the economy of Ukraine, but their efforts are not enough. The world must help us, because Ukrainians protect their land and their right for European future"- said the Head of the UGCC.
The speech by His Beatitude Sviatoslav aroused keen interest and numerous requests that turned into a real debate in support of Ukraine.At the event also took the floor the US Ambassador to the Holy See Kenneth Hackett, who said that his country supports Ukraine in the struggle for peace and European future and thanked the Head of the UGCC for His speech and participation in the briefing.
Press service of the Embassy of Ukraine to the Holy See
PUBLICATIONS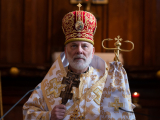 It will be necessary for many more years to assist Ukraine in its development, support people, and show them that God loves them. Bishop Kenneth...
MEDIA