The Head of the UGCC is on His official visit at the Vatican
Tuesday, 24 June 2014, 16:42
His Beatitude Sviatoslav, the Father and the Head of the UGCC, these days is on a working visit to the Vatican to attend the 87 th meeting of the Council of Organizations of the Congregation for the Oriental Churches (BCAA). During the meeting the situation in Ukraine, Romania, Syria and the Holy Land was in the centre of attention. The participants will have an audience with the Holy Father Francis Pope. In the Assembly is also involved Archbishop Thomas Edward Gullickson, Apostolic Nuncio in Ukraine.
This morning at the tomb of St. John Paul II, together with the representatives of other Eastern Churches the Head of the UGCC coserved the Liturgy, led by Cardinal Leonardo Sandri, Prefect of the Congregation for the Oriental Churches. After lunch, will begin working sessions in which special attention will be paid to the life of the Greek Catholic Church in Ukraine and Romania. We have to add that BCAA is an organization that works with the Congregation for the Oriental Churches and combines various charities that support the pastoral work of the Eastern Churches. One of the priorities of this organization is to provide scholarships for overseas studies seminarians of Eastern Churches and the development of social structures. UGCC Department of Information
PUBLICATIONS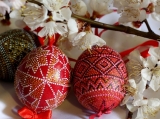 Christ is Risen! Indeed he is Risen! In the beginning was the Word, And the Word was with God, and the Word was God. All things came to be...
MEDIA