The Head of the UGCC: "It seems that politicians and authorities no longer hear civil society"
Wednesday, 23 September 2015, 11:51
Today in Ukrainian society we have extremely huge part of healthy structural forces that, just as in the time of Maidan, can organize themselves to protect their homeland, to help the needy. But we all extremely need a format in which we, together, could do it. It was said by the Father and the Head of the Ukrainian Greek Catholic Church His Beatitude Sviatoslav during the national forum "The Transformation of Ukraine".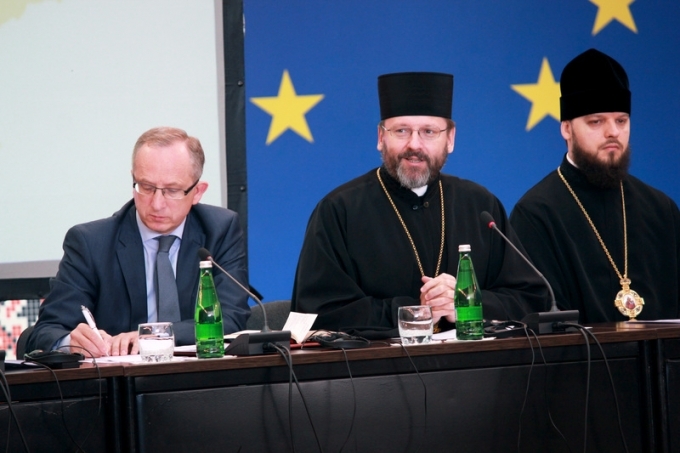 Speaking about the importance of dialogue between the authorities and the society, the Primate of the Church said that today in Ukraine, we have to realize that the building of European Ukraine – it is a cause of all our people. "It's not just government, not only politicians - says the Head of the Church - this is a cause of our Ukrainian civil society. According the old expression «res publica» - this is our common cause. I would like to recall the events that are spoken about by European Square, this Ukrainian House ... Do you remember how Maidan began? There were two maidans. One - political, in the European Square, and the second - the Civic, on Maidan. And at some point the political parties rolled up their standards and turned to the people". According to His Beatitude Sviatoslav, it's time for something like that to happen today.
According to the Head of the UGCC, now we feel a great lack of social dialogue on bulding of our country. "We see the people have a feeling that both politicians and authorities no longer hear civil society. Therefore, society begins to speak louder and sometimes even cry. Forum is for us to be able, on the one hand, to consolidate all the healthy forces of Ukraine to support all those who wish to defend the statehood interests, on the other hand – to have the opportunity of a social dialogue between civil society, government and politicians. This forum is vital, especially when there is a vacuum of communication, which can be filled by some destructive and very dangerous moments for the building of European Ukraine", - He assumes.
His Beatitude expressed hope that this forum would be the national and healthier forces would join the process of building of Ukrainian society. "I would love the views of civil society to be heard by the government and our political forces. I am srongly convinced that our people have enough strength and desire to accomplish the mandate of Revolution of dignity to build the European Ukraine together"- said the Primate in the end.
UGCC Department of Information
PUBLICATIONS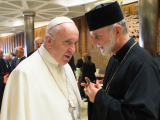 An unprecedented event took place in Rome on July 5-6. Desiring to demonstrate support for the Ukrainian Greek-Catholic Church at a time of...
MEDIA