The Head of the UGCC met with the Acting Minister of Foreign Affairs of Ukraine
Thursday, 00 0000, 01:00
On Monday, March 31, 2014, the meeting between His Beatitude Sviatoslav, the Father and the Head of the Ukrainian Greek Catholic Church, with the Acting Minister of Foreign Affairs of Ukraine Mr. Andriy Deshchycya took place.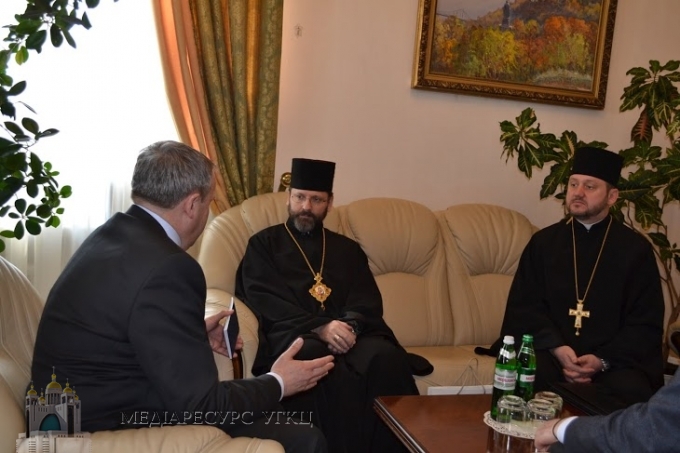 During the meeting were discussed a number of issues related to the activities of the Ukrainian Greek Catholic Church internationally and agreed the position of common evidence - Church and State – before the world community of unity of the people of Ukraine and its devotion to the ideas of peace, democracy, mutual aid and human rights.
In the conversation were positively assessed the previous international activities of all religious communities in Ukraine and Ukrainian Greek Catholic Church, particularly in the questions of European integration of our country, the consolidation of Ukrainians around the world and bringing its great potential for the revival of the motherland.
His Beatitude Sviatoslav expressed his gratitude to the Ministry of Foreign Affairs of Ukraine and the Minister personally for a clear position in defending the interests of our country before the international community in the current difficult situation in Ukraine. His Beatitude Sviatoslav assured Mr.Deshchycya of overall support in such activities by all available and legitimate means and ways, and especially - prayer.
The Parties recognize the positive adjustment of a direct dialogue and expressed willingness in the future to hold such meetings in order to coordinate their positions and plans of activity.
At the meeting were present: Mr. Volodymyr Yatsenkivskyi, the director of the Department of communications with the Ukrainian community abroad and cultural and humanitarian cooperation of the Ministry of Foreign Affairs of Ukraine and the mitred Archpriest Oleksa Petriv, the Head of External Relations of the UGCC in Ukraine.
UGCC Department of Information
PUBLICATIONS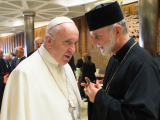 An unprecedented event took place in Rome on July 5-6. Desiring to demonstrate support for the Ukrainian Greek-Catholic Church at a time of...
MEDIA